A Chance, Part 2
October 13, 2014
I was always an awkward girl, I always had this irrational fear of speaking to people. People that I thought were better than me in some way. I've always had this problem and Jack always teased me about it. I didn't mind, though. I've known I had this problem, and I want to fix it. So when Justin got to class today, I had a sudden burst of courage.

"Wow, you're here early today," he complimented me. I smiled and tried to say something, however, my voice didn't come out. Instead, a loud burp came up and I tried really hard to hide my embarrassment.

"That was a good one," Justin said to me, "You could probably beat me, no problem." He smiled at me with his perfect teeth, and I had just enough courage to smile back. Suddenly, I had a great confidence in me.
"So what did you do over the weekend?" I asked, wondering if I sounded stupid.

"Not much. Me and my brother went wake boarding and dirtbiking on Saturday," He told me, "on Sunday we went to pool and then went home and just chilled."

Wow, he must be really adventurous.. I thought. After class, me and Justin were still talking, but somehow we got onto the subject of the Pearl Harbor bombing. Wow, he's cute and intelligent, he's got it all I thought. As usual, Jack was standing outside my class waiting for me, as he did every day. His eyes darted from me to him, and a huge grin appeared on his face. I gave him my best don't-screw-this-up look and he started walking toward us.

Justin had just finished talking about the bombing, when I felt somebody push me…. hard. Jack I thought. I got knocked into Justin and we both landed on the ground, me on him. I looked down at Justin who gave me a cute smile.
"Wow, you're good at burping and wrestling!" he complimented jokingly. I smiled when suddenly his strength turned and he flipped over. Now he was on top of me.

"But I'm better," He said with a grin. He got off the ground then took my hand and pulled me up.
I looked at him, "We'll see." I gave him my most cutest see-you-later smile and walked off confidently. Even looking forward, I could tell he was staring. I guess my confidence showed, and for once, I liked standing out.
Jack caught up with me and I gave him a shove. He laughed and I gave him a half-serious look.

"Dang it, Jack. What was that for?" I asked him.
"Oh, you know you wanna thank me," he said, teasing me.
I smiled at him and gave him a hug, as if to say "You're a great best friend."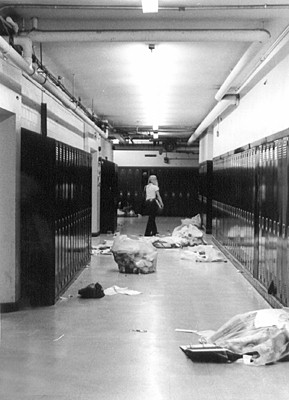 © Halsey S., Marblehead, MA