Ant Farm and Other Desperate Situations by Simon Rich
MAG
October 4, 2018
Ant Farm and Other Desperate Situations by Simon Rich is a book of short, comedic vignettes about the funny and weird absurdities of modern day life, all of them about two pages or less. The vignettes are based on questions such as, "What would the Army be like if it was exactly like the TV commercials?" and "What would happen if you made a citizen's arrest every time someone ate one of your chips?" The book is extremely funny and imaginative, and it challenges our expectations about the randomness and irony of the world.
Ant Farm is creatively written and funny overall, but there are a few masterful, inventive stories that Rich absolutely knocks out of the park. The best vignettes in the book are "patron of the arts," "karma," "homework," and "animal cruelty." (Rich ignores convention and doesn't capitalize any of the letters in his titles.) These stories have a precise and hilarious combination of specificity, relatability, and absurdity. However, "a fantasy i had in seventh grade," "ouija board," "pen pal," and "medieval england" are less impressive. In these stories, Rich's message is scattered and his writing lacks concision. It seems like he's not quite sure what he wants to say, how he wants to say it, or what he wants you to think. Despite a few bumps in the road, Ant Farm is smart, inventive, and laugh-out-loud funny.
There's no overarching story or plot in Ant Farm, but it's nevertheless cohesive. Often, the title of each story explains its premise, so that the text can be devoted to exploring the set of circumstances laid out. The vignettes are mostly dialogue, and it makes them feel like you're in a real conversation or watching a stand-up comedy show. Rich never falls into the trap of trying too hard to write overly-sophisticated humor that goes over your head. Instead, he keeps it concise and authentic. His writing is witty, but he doesn't overdo it. The book is rich (pun intended) with things we can all relate to. It simply sets up the premise, establishes the story in a sentence or two, and lets it fly. From "how I imagine life in the u.s. army (based on the commercials i've seen)":
"General Stone: All right, men, listen up! Our nation is at war, and the whole world is counting on us to protect freedom. That leaves us with just one option.
Bob: Rock Climbing?
General Stone: Exactly. There's a steep mountain in the middle of an unpopulated desert. We need someone to go there by himself, climb the mountain, and put a flag on the top."
Ant Farm and Other Desperate Situations by Simon Rich is a surprising, unique, and utterly hilarious book worth checking out. The characters and circumstances in each story are believable, the writing is imaginative, and the format in which each vignette is written is specific and purposeful. I would recommend Ant Farm to anyone who wants to notice the funny things about everyday life that we never quite get around to thinking about.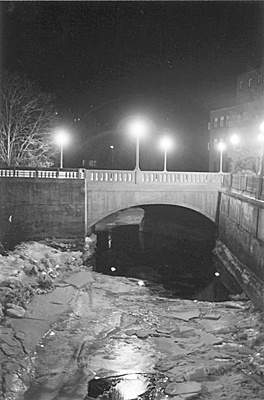 © Peter G., Glenburn, ME