Meet Me Dear
January 24, 2014
Meet me on the moon dear,
let's take a weightless bound;
Hints of gravity tug our sleeves
but where can love be found?

Meet me in the arctic dear,
let's melt this icy loam;
Frigid fingers reach out in quest
but where will love next roam?

Meet me in the city dear,
let's float above the crowds;
Drink to the sound of flitting hearts
but is love really this loud?

Meet me in the country dear,
let's raise our seedlings small;
Build our castle out of grass
but have we met love's call?

Meet me in the desert dear,
let's make it out alive;
cross the daunting, sun-cooked land
but should love be a thing to survive?

Meet me on the mountain dear,
let's make it to the peek;
Lips may touch a gentle last
but is this the love we seek?

I'll meet you up in Heaven dear,
we'll still be just the same;
Frolicking in paradise
where our love will still remain.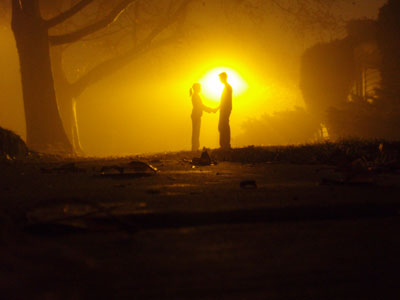 © Tanner H., Kaysville, UT