Is it or not.???
September 30, 2009
Sometimes i feel like I'm running but when i run i feel myself run into dark and cold empty streets.
And there i wait and wait for this world to to let me in.I stand frozen...but frozen for a thousand years or two...with out your love.
And while i wait my soul seeps somewhere cold.
"huh.?" I say with a flirty smile on my face.
As he locks my eyes with his and whispers in his deep,dark,and sexy voice telling me something so confusing,"i said you smile hiding behind a god given phrase."I stand right there in the middle of the hall way with all the students passing and practally trampling over me still trying to make sense of what Vince said. Still trying to let what he said settle in.I finally found myself again and made my way to spanish class and because Mrs.Clappsadle yelled at me and said,"THIS AIN'T A PARADE.!"Again after spanish I make my way to english.I do my class work and a paper appears and in my name all fancy and stuff. I And wait.!A red tulip.? I look up and Vince looks at me then at the note and quickly open it before Ms.Bustamante takes it. It read I need to know so much more,but for now this is all i need it read. huh.? is my word for the day cause that's all that ever came out my mouth.Well until i found myself ditching class.!And a touch that can silence the world and leave me with a tingling feeling!My only question is can this be love.?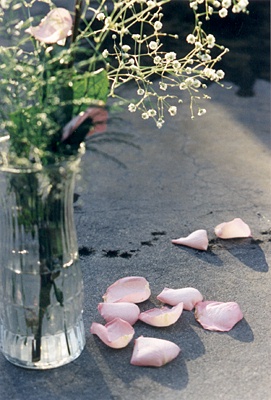 © Kathleen S., Maumee, OH