I don't like Twilight. So?
April 13, 2012
Wherever you turn your head at my school you will hear things like: "Team Edward", "I love Robert Pattinson", "I can't wait till the premier of Breaking Dawn" or "If I were her, I would say yes to the man of my life from the first time". And this is where I "lose" them. I cannot participate in any of these conversations. I don't know whether Edward is better than Jacob or what is going to happen to Part 2 of Breaking Dawn. But why is this so bad?
When I first mentioned that I don't like the series, my friends all fell over me like vultures. "Where do you live?? How can you not be a fan? Haven't liked the books? Isn't Robert Pattinson a good reason to watch the movies??". Hey, wait a sec. I am not that uncool, just because I don't like your series!!
To be honest, I never read a single book, just because vampires are not like that. Is it right to compare Edward Cullen with Count Dracula for example? Vampires aren't pretty. Vampires live in the dark, in coffins. Vampires can't stand the sun; if they get out when the sun is shining, they turn into rock, they don't glimmer!!!! And is it even possible for a vegetarian vampire to exist?? Come on, you shouldn't be called a vampire if you don't drink human blood!!
Well, in fact nobody paid attention to my words… They made me read the first book. Ok, I read it. It's good, I must admit. But it doesn't deserve all that recognition it received!! And please, stop comparing it to Harry Potter. Harry Potter is a phenomenon!! Twilight will never be able to reach it!!
I still hang out with these girls. But I'm tired of this situation… I believe at least here I can express my view without the fear of being accused as the out-of-fashion one or the one without taste… However, I wonder, am I the only one that hates Twilight series???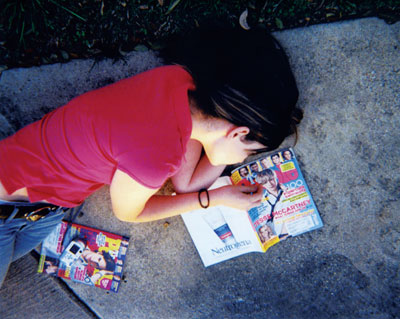 © Erin W., Highland Village, TX