The Airmen Flies High in the Sky with Angels
November 22, 2013
"Memories of Joe bring a smile to my face and warmth to my heart."- Chicago Tribune Obituary

It is August 9th 2012. I'm in Kenosha, Wisconsin, staying at Carthage College for my summer job as a camp mentor. The heat outside of the Student Union is scorching. The only upside advantage is the nice cool breeze we occasionally receive from Lake Michigan. It is finally week nine, parent weekend, where all of the remaining twenty-six campers' parents arrive and help the campers pack up their dorm rooms. I was playing on my mother's iPhone in the cafeteria during lunch and was in the text message application, about to message my best friend Brooke. All of the sudden, a different text message caught my eye instead. It was from my mom's friend Michelle. It stated that she was sorry to hear about the loss of Joe, and I only knew one person in my life named Joe, and that was Papa. I felt almost as if time had stopped for a moment. I did not know how to react since I was away to work at Wellspring Wisconsin. I was isolated and disconnected from the world when it comes to technology. I couldn't believe that I did not know that not only was he sick, but that he had passed away. I slowly looked up from the iPhone, like a girl would look up slowly in a horror movie. My face was puzzled and I looked at my mom. She knew right away that I had found out that Papa had passed away. I looked back at the iPhone, and went to e-mail Grandma Barb to tell her that I felt sorry for her loss. As much as it hurt, I tried to push the emotions to the back of my head so I could deal with them once I arrived back home.

9th of August 2012: Joseph Goggin passes away peacefully in his home with his family present
8th of September 2012: the cemetery is quiet; all you can hear is the playing of Taps. Servicemen in the armed forces attend, and hand the family a folded American flag for the passing away of a veteran airman who served our country when it was in need. He fought in both World War II and the Korean War.

There always seems to be those people in your life that you cannot imagine living without. You practically take it for granted that you will see them every day and that they will always be there for you. When I was a young girl at around the age of eight or nine, and it comes to remembering the people that I would see the most, that person to me would be Papa.

Papa has been in my life as long as I can remember. Growing up with three boys also gave me not only another family, but a pair of grandparents that I never really had as a child. When I was young, my mother's mom or "mormor" in Norwegian passed away when I was young, and all of my other grandparents had passed away before I was born. Papa always had a smile on his face, and I would receive a warm hug. One of those hugs that makes you smile because it was from somebody like family that you love because they have been in your life for just so long. Papa was a huge family man; he loved knowing what was new with everybody, including myself. He always made me feel like a grand-daughter even though I was not blood related, but then again I would see him at least three times a week. He would sit at the kitchen table with me and ask me, "how are you doing, how is school, how are your friends". Those would be the usual questions, but he asked those questions because he cared. He would always bring cookies or coffee cake to the Adam house.

A typical day when I was in seventh grade would be to walk to the Adam's house after school, or I would catch an occasional ride with Joe's wife Grandma Barb and her grandson Rob. When we got to the Adam's house, my mother would already be there since it was her job as the babysitter. By that time, the job was mostly to make sure that there was adult supervision when Rob would arrive home with his vast group of friends.

Every day would seem like the same routine. I would be in the family room watching TV while Rob and his friends were in the basement playing pool or Xbox360. My mother would be upstairs just cleaning and doing laundry, on occasion she would go check on Rob and his friends in the basement, and grab a Diet Coke. At around four in the afternoon, Papa and Grandma Barb would usually come over to say "hi". Grandma Barb usually had some food for Rob to eat later. Sometimes it would be for Ryan or Jeff. Most of the time, the food was for Jeff because he played multiple sports in his high school career at Lyons Township High School. Papa would then come into the house right behind Grandma Barb, sometimes with a bag of sweet treats. I would then get up off my butt from the couch, which at times feels like swallows you whole. I would give them each hugs and a quick peck on the cheek. I love them more than anything.

Those are the memories that I think about when I think about Papa, to always think about the good times. Although he may be gone, the memory will never leave my mind or my heart.

I arrive home after the first day of school August 20th. I have finally made it to North Campus at Lyons Township High School as a junior. I was excited, except for all of the stairs, which everybody seemed to compare to the "stairwell of doom" because there are not only many stairwells, but high stairwells. At times climbing up those stairs feels like a pull of a vacuum backwards and almost tumble on down those stairs. As I arrived home slightly sweaty that day, because of the extensive heat, there was a letter saying that Papa's memorial would be on September 8th 2012.

Once again, time seemed to stop in place for me. My eyes just seemed to keep re-reading the letter over. It was almost as if my brain could not process that Papa had actually passed away. As my eyes kept glazing over the text, it just would not click in mind that he was actually no longer here with us on Earth. I was honestly a bit nervous about the memorial service would work because, before last year when Kelli O'Laughlin passed away, I really never had any experience dealing with death in my life.

September 8th 2012: There is a knot forming in my stomach, as I am now finally processing that Papa has passed away from the cancer. According to Grandma Barb, you wouldn't have known about it because he never mentioned any pain that he would feel in his body. All I could think about was," why out of all days, the day of the memorial, I would come to the realization that Papa is no longer here on Earth". The only thing I was happy about was that I would be seeing Rob and Ryan, but I got something way more than I was expecting.

The memorial service for Papa was held at Butterfield Country Club, the club that the family belonged to for years. I remember going there as a child because I loved the high-dive at their swimming pool. We were in a building I have never been in before, but it was very elegant inside this foyer. As we walked further in, I saw the people who knew me best. I basically power walked to Rob and gave him a much needed hug. It would not be so needed if he lived here in Western Springs still, but he attends Miami University in Oxford, Ohio. Just being able to give Rob a hug, made me feel much more relaxed because he is like my older brother, and I felt protected. After giving Rob a tight choke-hold hug, I basically skipped over to his oldest brother Ryan to give him a tight hug as well. I would of course given Jeff a hug, but he was held up in Cincinnati at the Bengals camp. However, being around the two goofballs made everything feels a bit better and of course Rob's best friend Collin attended as well, so I defiantly felt a bit better even though the upcoming event would shed a few tears.

As everybody shuffles into the area where the slideshow and short speeches would be held, I got that knot in my stomach, one like I would get when I was younger and would be at one of my sibling's weddings and have to run to the bathroom so many times because of nerves. Although I had come to the fact that Papa had passed away, this event was basically made to say a final good-bye. As I took my seat next to my mom, I tried to mentally prepare myself for the upcoming speeches from family members. When I glanced around the room – the room was filled with people who knew and loved Papa. As the speeches began, my stomach slowly unknotted itself, and I enjoyed hearing all of the memories. I had to hold in my emotions a bit, but there were a few choruses of soft laughter during the stories that his children told of their great memories of their father. My favorite part of the speeches was when the one of the oldest grandson Ryan, at the end of his speech gave the statement," I don't even care if you like my speech or not, because Papa loved it."

After the speeches and the last prayer were given by the friar, they started the photo slideshow with the title "A Life Well Lived". To see the photos that were taken throughout his life were amazing to see. The black and white photographs of him looked as if they belonged in a movie from the 1950's. The surround sound speakers were playing "My Way" by Frank Sinatra, because Papa loved Frank Sinatra songs. The photos displayed everybody who interacted with him, and the photos represented the things that he loved most, which was his family and friends. Also photographed were large events in his life with Grandma Barb. I had to look down and my own feet, so I could try to blink away tears that were escaping.

As the slideshow came to an end, everybody then shuffled into the other room where there was food and drinks to enjoy and of course the music of Frank Sinatra. As I got into the main foyer, I realized that everybody from my childhood was in the room. These people have known me since I was a little child. Sandy Adams of course realized this, and huddled us all together to take photos. The memories we share from our childhood cannot be explained simply, because somebody would think that we were raised in a messed up fashion, but we had the best childhood anybody could ask for. We all sat at one table together to catch-up with one another. The cheer in everybody's eyes were slowly coming back instead of the sadness, because Papa did not want anybody to be sad and mourn for very long over his passing, but to celebrate the life that he lived, and to treasure the memories that everybody has of him. To be able to re-connect with people, some I have not seen in years would have not happened if Papa had not wanted everybody to come together.

Throughout the afternoon, one of Papa's friends brought a singer to sing "My Way" for everybody. Finally the time came for my mother and me to depart. As we were leaving we gave everybody another good hug and that we would all meet up soon. Upon exiting we received a box of Papa's favorite things including a CD with all of his favorite Frank Sinatra songs. He lived up to the lyrics I believe. He lived a life of loving his family and friends, and being a dedicated volunteer at Children's Memorial Hospital. The kindness he had for people was never-ending. He still had the courage and was brave enough to serve our country, not only once but twice. Even though he is no longer here, he is still the airmen up in the sky in heaven with the angels. All I can imagine him saying is that he lived his life "My Way".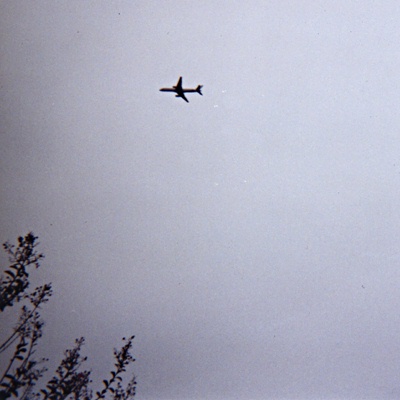 © Steven W., Highland Village, TX