Haunted
September 8, 2010
I was walking through my neighborhood on Saturday morning. It was at the point of the day when it wasn't too hot or too cold and there was a slight breeze. It lifted my hair, weaving it's fragile fingers across every strand. I was in a happier mood and smiled at an elderly couple as they passed by. I was just coming up to the park that was filled with soccer fields. I heard children screaming as they chased each other, and the parents screaming at their child protegees, while coaches screamed instructions at them.
I fell into a a trance-like state as I collapsed into a reverie. I was back in Washington it was Saturday; game day. I felt the butterflies tickling my stomach as they flapped their wings crazily. I danced on my toes as the referee blew the whistle to begin the game. As soon as I touched the ball my nerves flew away and I was in the zone. The game persisted of back and forth fierce competition that kept me ready. I was dribbling down the sidelines and I could hear my coaches and all the parents yelling and screaming, "Go, Rachel, go!".

My teammates flew beside me, calling for the pass. I passed to Megan, who shot it. Goal! Parents, coaches, and my team screamed and yelled in excited voices that held the undertone of spirit and fire that was currently flowing through us girls' blood.

The blow of a ref's whistle brought me back to reality. Kids ran off the field in the excitement of winning as their opponenet plodded back to their sideline, dejected.

I smiled wanly. I missed the thrills of winning and the sadness of losing. I missed my team and my coaches and the feeling of waking up early on Saturday mornings, anticipating the win, the butterflies, and the cheering crowd. I felt waves of emotion flowing through me in constant torrents as I attempted to keep control of myself.
I turned and continued walking along the road. The smells of fresh cut grass, sweat, and the chance of rain followed me all the way down the road. It was reminiscent of my very first game:
I was putting on my brand new cleats and shingaurds as I sat beside the fields filled with soccer players that would grow to be proffessionals one day. I stared in wonderment as one girl dribbled the ball all the way down the sideline and crossed it across the face of the goal and her teammate headed it in. I couldn't help but stare at the honest passion aroused in these girls over one simple game. I hoped that one day I was as good as these girls if not better. I blinked as the first raindrops began to pour down. I smiled as I looked up. At seven years old, this experience was just fun. I never knew it would become my life.
As it began raining I, once again, was snapped back to reality. It must have been raining for quite some time because I was soaked. I ran down the sidewalk to my car where I jumped in, started it up, and drove away from the memories that would haunt me for the rest of my life.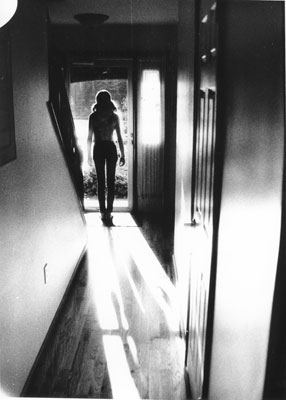 © Mike V., Morgantown, PA