Brother Dustin L.
MAG
Almost everyone has dreams, but for most they are never fulfilled. This is not true for my brother, Dustin. We are six years apart, and as I was growing up, I would try to be just like him, hoping that someday I could be half as cool. I still look up to him just as much, if not more.

Watching Dustin compete in sports, including high-school rodeo, I realized what a big heart he has. I went to every rodeo and saw him grow as a bull rider and person. As a sophomore, he broke an ankle, causing him to stop riding until his senior year. Just 5'8", many said he was too small to succeed in this dangerous sport but Dustin placed in many rodeos that year, even winning a few. He finished seventh in the state of Utah, proving his detractors wrong. His bull riding career, though, was just getting started.

In 2001, Dustin went on to college rodeo and competed in the Rocky Mountain Region, which includes Utah and Idaho. He finished second in the region freshman year, earning a spot at the College National Finals Rodeo where he did fairly well competing against the best in the country.

As a sophomore, Dustin did extremely well. He won his first saddle in a small winter series that had nothing to do with college rodeo. He won his second saddle that spring by winning the region, and again earned a trip to Nationals.

Dustin's junior year was his last competing as a collegiate, and topped the others. He was ranked number one in the nation all year, won another saddle by winning the region again, and went to Nationals for a final time. There, he experienced a string of bad luck and though he did not place, he had a tremendous college career. He finished his degree in the spring of 2004 and moved on to the Professional Rodeo Cowboys Association.

Dustin did well in the PRCA. Last year, he finished 50th in the world. This year, however, he has climbed to the top. He won his first pro rodeo in Fort Worth, Texas, and after that was ranked fourth in the world. A few rodeos later, he hit his head on a bull's horn, pushing it in nearly half an inch and leaving the right side of his face paralyzed for a time. Even so, he considered it a small injury and continued riding in more rodeos. After listening to concerned family members, he went for a CAT scan. The results showed a massive skull fracture that may need surgery. Dustin immediately returned home. We are still unsure of what is going to happen for him to heal, but for now he is helping out at home and on the ranch.

In addition to Dustin's amazing accomplishments, I look up to his personality and never-surrender attitude. He has had many reasons to be discouraged and quit, but he never did. He has had many injuries, but has kept that dream of being a world champion bull rider.

Everyone around him falls in love with his personality. He is the life of any party; whenever I go somewhere with him, he always seems to find an old friend or bull rider to talk to. People always ask me how he is doing.

Dustin is never afraid to help others. He is always somewhere helping one of his friends get in cows, or brand them. He is very energetic and tries to accomplish whatever he can to improve the condition of our home or ranch. Dustin is really helpful and generous toward me, too. In fact, he gave me the first saddle he won because I had outgrown mine and was using my mom's. He goes to as many of my games as possible and always gives encouragement when I need it.

Dustin Larsen is not only our little town's hero, but mine, too. He is someone I have always looked up to, and will continue to. He is someone I am proud to call my brother, someone who will continue to succeed in whatever he does, because he truly has the heart of a champion.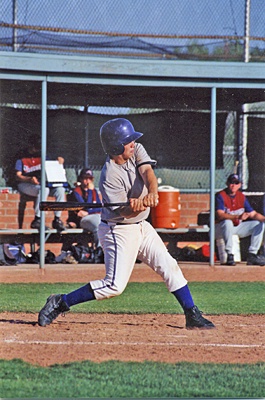 © Anonymous