No Body Is Perfect
MAG
I walked down the aisles looking for a pattern in my favorite clothing store. Just my luck, they had the cutest shorts – but only in sizes 0, 1, 3, 7, and 9. I wear a 13. Annoyed and devastated I walked out thinking, I'm just too fat.

The next week, at my grandmother's house for the traditional spaghetti dinner, my cousin and his girlfriend, Ivy, joined us. We had a delicious dinner. Afterward, the women sat around talking about dieting and their weight and whatnot. My aunt complimented Ivy on how skinny she looked for weighing 120 pounds. My aunt said that she needed to go on a diet because she weighed almost 140 pounds. This comment kind of hurt me because I weigh almost 160 pounds. So I said, "I probably need to go on a diet too," but I said this softly so, hopefully, they wouldn't hear me.

Ivy, however, was sitting right next to me and heard what I said. She took me into the other room with her, and we sat on the bed. "When I was in my senior year of high school, I weighed 140 pounds," she said. "I felt so insecure. I couldn't imagine any guys would want to be with me because of how fat I was. I tried eating less, dieting, exercise, but nothing seemed to work. That was when I realized that no body is perfect. No anorexically skinny girl will ever be skinny enough for society to say that her body is 'perfect,' because then she would be considered 'unhealthy.'"

I thought a lot about this for the next few days and realized that no one had ever called me fat, except when my mom was joking with me. So why was I so caught up with how much I weighed? Why was I so consumed by a number that does nothing but mock you? This number labels and classifies you and tells you "You can't fit into those jeans because you're 160 pounds. You can't go out with him because you're 160 pounds. No one will want to hang out with you because you're 160 pounds" over and over.

I decided that I wasn't going to let my weight rule my life. I wasn't going to let it decide what I should and should not wear. At that point I realized that I, too, believe that no body is perfect, that no girl can be skinny enough, and that all those people who tell you the "anorexic look" is in are probably so uncomfortable with their own weight that they have to make other people self-conscious just to make themselves feel better.

So, anytime I start to feel self-conscious about my weight, I think to myself, Anorexia? I think not.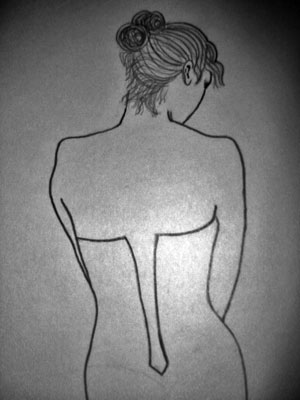 © Anonymous