My Favorite Color Gray
November 8, 2011
The wind and rain swirled through the alleys, beating down on the dark and putrid apartments, the filthy streets. There was no light in the alley, none at all, except for the light pollution that blanketed the sky at night, sending the stars into hiding. Jackson Delany stood silently against his window, watching the water rush into the drains that lined the sidewalk, his one-room apartment pitch black and almost entirely empty. He stood that way, with one hand pressed against the pane, leaning on the sill, with the lights off.

"What are you looking for?" He used to ask himself. But then he stopped, because he didn't know and didn't care for the answer. It was better to just go on looking, without guidance, he thought, it was better that way.

Flashes of orange. Jackson remembered how much he used to love orange. When he was in high school, it was his favorite color, but he didn't have any use for favorites now. The orange weaved again through his vision, and he peered out of the window. He gasped, then hurried downstairs to open the door.

Her face was round, and pale, and her eyes were somewhere between brown and green, Jackson couldn't remember what that color was called. Her hair was orange, and curled around her chin and shoulders with grace. She looked at Jackson with a surprised look, like she couldn't remember why she had stumbled upon such a dreary man. Her black raincoat was dripping onto her purple shoes, but she barely noticed. Her dark eyes asked what seemed like ten thousand questions, the main one seeming to be, in Jackson's mind, if she should leave this small man in his dark and lonesome house to go elsewhere, to get away from this place. Jackson almost cried out, "Go, you need to go, leave before the darkness swallows you too," but he knew what he said wasn't going to change her mind once it was made up, for some reason he knew this.

She strode past him, through the door, and Jackson shut it on the night.

Lights.
Jackson couldn't see. Blinding him. "Leave me, can't you see I am blind!"
No response, and when his eyes stopped watering, he saw she was only a few feet in front of him, wearing a hardened expression. As soon as she saw he could see, she turned and left, vanishing into the night through the open door.

"I shut that door," Jackson struggled with the words, and then shouted them. "I shut that door!" For some reason, this was so important, so vital, he screamed it again, to make sure she knew. "THAT DOOR WAS SHUT!"



Cinn Barksfield climbed into the building and walked quickly up the long sets of many stairs. Finally reaching the top, she saw the city in her minds eye, as it used to be, many years ago. People roamed the streets late at night, lights glistened from all the buildings, Christmas lights and mannequins and beggars and bridges. Cinn shook her head, her curls falling around her face, and looked out once again at the city. One lighted building. She had much work to do.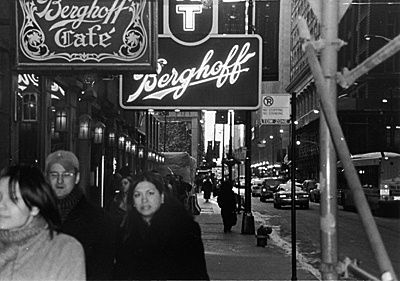 © Julie J., Mendham, NJ