The Actor
October 19, 2009
The Curtain was coming up in ten minutes, and Ryan Paley had just finished putting on his costume. He closed his eyes, and focused on becoming one with his character. He opened them, and looked into the mirror, not even recognizing himself. He was no longer Ryan Paley, but a new man. He was ready. He left his dressing room, went down the stairs, and began his walk to the stage next door. He stepped into the frigid february air, and began reviewing his lines in his head. He was not the main character, but still had an enormous role. It was opening night, but there were no butterflies in his stomach, nor were there jitters running through his body. Only complete and total focus. He approached the door, opened it, and walked onto his stage.

Act I
He immediately surveyed the audience. Few noticed him, but he knew that would change. They would soon be in love with him, either for his delightful character, or his brilliant lines. Although the story wasn't about him, he was the one that won the audience over. Perhaps it was just the influence of the abundant amounts of alcohol the audience was enjoying, but nevertheless, Ryan was confident. Everyone seemed to be in a good mood, almost certainly due to the loud music and flashing lights. He took a closer look at his audience, trying to pick a member he knew would play along, when he saw her. She looked perfect for the part. She was decent looking, sure, but by no means was she beautiful. The woman was obviously trying to cancel out her physical mediocrity by her risqué dancing and scandalously low cut shirt, just praying to be noticed. Sure enough, Ryan noticed her. He went to her, and she made eye contact. He smiled, and began to perform his lines. He offered to buy her another drink, and she happily accepted. She laughed at his jokes, and at all of his mannerisms, and bought right into his character. After having several more drinks, she dragged Ryan onto the dance floor. Ryan hated dancing, but his character knew the choreography, so he let her dance on him. Ryan decided that his audience was ready for a change of scenery. His part was just about over, and he would hand the plot over to much more capable hands. Ryan's character was good, but he didn't even compare to the story's main protagonist. He invited her to the dressing room, which served as his character's apartment. She smiled at him and seductively bit her lip. He helped her walk from the stage to the building next door, and up the stairs. He opened the door for her, and she stumbled across the room onto the couch. He looked at her, his thoughts full of disgust, but his face full of excitement. His character's role in the story was done, so he went backstage.

Intermission
He went into the kitchen, but didn't break character. He was about to share the stage with the best actor he had ever worked with. He wanted to appear competent, like he was doing a good job. He opened a drawer, and there it was, waiting to perform it's brilliant part. Ryan grabbed the handle, and lifted the dagger out of it's holding place, being as careful as possible. He showed complete reverence, and treated it like an ancient artifact. He braced himself for the coming performance. The plot building was done, and it was time for a climax. Act II was a love story; the most perfect love story that anyone has ever seen. It was shared between the dagger's six inch blade, and the woman, and it was going to be perfect. They were both ready.

Act II
Ryan returned to the living room, knife clenched behind his back. He saw that the woman had undressed, but he barely noticed. It was not her body that the knife wanted, but her neck. He walked to her, and the dagger showed itself to its lover, and the climax began. Ryan watched in awe as the actors created a romance so real that it brought tears to his eyes. He broke his character, but he didn't need to be in it anymore. He just wanted to witness the perfectly aesthetic scene. His breath was taken away, it was so beautiful. The scream, the love, the blood, the music. It all wrapped up together in a spectacle so gorgeous that it brought shrieks of delight out of Ryan. The point caressed it's lover over and over, when finally, it was done. He sat looking at the dagger with an insatiable infatuation, however, he was dissatisfied with the finale'. He wanted more. How could the story end when there were so many people the dagger could love? And what better person than himself? He looked at it and braced himself. There were no butterflies in his stomach, nor were there jitters running through his body. He brought the point to his own neck and let them kiss. A kiss so wonderful it made him dizzy. He dropped the dagger, and lay down next to it. He knew he had played his part well. He took a bow, and the curtain closed.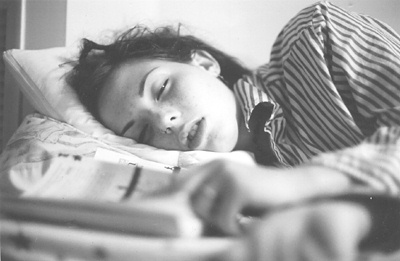 © Donna O., Kannapolis, NC