Lady Liberty
MAG
March 17, 2014
It was 5:30 and July wasn't up yet. Already late. She had to get up at five to catch the six o'clock bus to Hinsdale from South Lawndale. July pushed the pink covers back and sauntered over, half-awake, to her window. She pulled back the curtains to look at Kedzie Avenue. A view of the book shop with a "Going out of Business! All Must Go!" sign in the windows greeted her.

July squinted at the sunlight reflecting off the snow. Her blue eyes looked beautiful against her freckles and curly brown hair. She pulled a black dress with white polka dots from her tiny closet and grabbed some tights. To finish her outfit, she found boots under her bed.

July got dressed, jumping around to pull her tights on. She gave up when they reached her knees and she fell on her bed, falling back asleep. She looked like a vision in her stuffy room. The walls were rose and her closet and bedroom doors were white, but one could never tell from the pink curtains that were always closed. She had a white vanity that blended in with the pink, with Demi Lovato and Ed Sheeran CDs strewn on it, mixed in with her Covergirl and ELF makeup. She had framed pictures of her friends and her parents. To complement the frames, she had posters of Audrey Hepburn and Ronnie Spector. Her precious iPhone was in her bed, instead of on her nightstand.

She finally forced herself awake and finished dressing. She put on her usual makeup: concealer, eye shadow, blush, and pale pink lip gloss. She grabbed her slouchy, floral Target backpack and threw a Chap Stick in, followed by her phone.

She went to her mom's room, which was similar to hers: curtains drawn and messy with makeup and Cosmo magazines everywhere. Her mother looked like she was in a coma on the bed. July heard the railroad bells and a train pass by.

"Mom, you need to wake up." July dropped her backpack and pulled open the curtains Her mother groaned.

"I'm going to school and you need to pick out an outfit," July insisted, pulling the covers down.

Her mother seemed irritated. "I picked one out last night, Sass." She looked just like July without freckles.

"No, you didn't. You were on your seventh episode of 'House of Cards' and you said you would pick it out today." July threw a purple dress on the bed.

"I want the black one with the sunflowers," her mother rebutted.

"No, Mother, you're interviewing at Target, not some dumpy bar like the one in Cicero."

"Where is it again?"

"Damen, right by Stevenson. Now put on your dress and be the breadwinner for once."

Her mother sighed into her pillow. "That's your father's job."

"You want to get out of this dump? Live in Lincoln Park with a view of the lake like we always wanted? Dad isn't the only one who should get a lake view."

Her mother sat and glared at July.

"Why do you always speak like a fortune cookie?"

July smiled and tossed a pillow at her mother. "Up! Up, Paulina!"

"Get to school, Sass. I'll take care of the dollars and cents."

•
•
•
July got off the bus in front of Dorothy Day High School, a private, Catholic school that she attended for free. Everybody walked into the school with big puffy coats as they trudged through the sludge and snow.

"The World Fair in Chicago took place in 1893 and was an incredible time for industry and history."

July's history class dragged for some but enraptured her for the short 42 minutes she was in it.

"The Court of Honor had an incredible white architecture that glowed in the night with electric lights. That gave it the name the White City."

Naomi was whispering to her friend Dana, probably about Andrew Leenan. July glared at her for disturbing her moment of peace.

In front of her sat Eddy McCarthy, who lived in Downers Grove. She knew this because he was one of the few kids not from Hinsdale, like her. He actually listened during history class too.

"Oh, I almost forgot! Turn in last night's homework on Section Three," said Ms. Turner.

July grabbed the papers from behind her and passed them to Eddy. He smiled his trademark bright smile, which stood out from his chestnut hair and freckled face.

"Your freckles look extra becoming today, Lady Liberty," Eddy said. He called her that after discovering she had been born on Independence Day.

"Thank you, Yankee Doodle," July replied.

•
•
•
When July walked out of history class, she read a text from her mother: "Target interview went great! Lake Shore here we come!" July smiled, heading for the library.

"Lady Liberty!" Eddy ran up.

"Yankee Doodle Eddy."

"Uh, lovely day, m'lady."

"You know I love that nickname."

"Well, born on the fourth of July, your name is July, it's only appropriate. Mine, however … how can Yankee Doodle be born on April Fool's Day?"

"Well, Lady Liberty needs her Yankee Doodle, and you seem to be the only one here who's not from Hinsdale and has freckles."

"And who doesn't have a trust fund worth twenty BMWs," he chuckled.

"How's the pet shop business?" she asked.

"Parakeets, baby huskies, goldfish. I want to know about your life. How's the movie-making going?" July had told him about her interests during history and couldn't believe he remembered.

She held up a book on Audrey Hepburn. "Returning this."

"Audrey Hepburn. Big deal, huh?"

"Just a little. I think in America."

He laughed. "Well, Katheryn Bigelow should be what I call you."

July chuckled weakly, trying to hide the fact that she was blushing. "Yeah, I was just headed to the library before going to the bus stop."

"Ah, back closer to the city. What I would kill to join you."

"It's not all State Street, you know."

"Better than this place at least. Things happen."

"True, but not all good things."

"Well, they can't all be with you."

July blushed. She knew Eddy, but not that well outside of class.

"Well, I would love to join you, but tennis practice doesn't wait on me."

She started toward the door and turned around quickly. "Eddy!"

"Yeah?"

"Call me Lady Liberty, please."

He smiled and winked. "As you wish, Lady Liberty."

•
•
•
July made it back to her apartment complex just in time to hear the Jensons say grace, as they always did at their 5:45 dinner time. Across the hall Mr. Vitar was watching the Hawks play the Jets. She could hear everything through the walls, especially his swearing.

As she walked upstairs, the third floor was very quiet. Just people waking up, clocking in, clocking out, and picking up something from the Jewel or Portillo's on their way home. July's family was the quietest.

She opened her apartment door. "Dad!" She ran to hug her father. He was wearing a Corey Crawford T-shirt and holding a beer.

"Well, isn't it the best tourist attraction in Chi-Town?" July's mother was sitting at the kitchen bar drinking an Arnold Palmer.

"I'm so glad Target went great, Mom." July smiled at her dad. "How long are you here? When do you have to go back?"

"Well, the boys just finished basic, so I go back tomorrow."

"Oh," July's smile dropped.

"But you can call in sick tomorrow and we'll go the Shedd, as usual."

"I can't. I have an AA test."

"A what?" He looked over at July's mother. "Paulie, when did she start drinking?"

"Advanced Algebra, Georgie," Paulina explained.

"Anyway, I've got to finish my homework. What's for dinner?" July asked.

"Shepherd's pie – your daddy's favorite," Paulina said.

"Good." July went to her room and shut the door.

"Good to see you too, July," George yelled.

•
•
•
July lay on her bed. She grabbed a brush and tried to work on the tangles in her hair. She watched the snow. She decided to put on some music and read her book for English class.

At 8, her phone woke her up with her book on her chest. A call from an unknown number. She decided to pick up.

"Hello?" She rubbed her eyes and turned a lamp on.

"Lady Liberty," said a deep voice on the other end.

"Oh, hi, Eddy."

"Did I interrupt you, or something?" he asked delicately.

"No, you're fine."

"Okay, good. How was your day?"

She raised an eyebrow. "Um, fine. Do you want to text or something?"

"Nah, I just wanted to check in. Plus, it would be rude to text you."

"Why?" July asked.

The phone went silent for a second. July was about to ask if he was still there until he sighed and said, "Um, because I was, uh, I was going to ask you out … on a date."

"I don't really know you, Eddy."

"Oh, yeah, sorry. Well, it's all good, I mean, for you, no–"

"Sorry, Eddy. I mean, we just talk in history class, and I'm not big on dating people I don't really know."

"Oh, okay. Yeah, well, I'll just let you go then …"

She had to save his dignity. It's not like Eddy was a bad guy.

"Uh, Eddy, that's your cue."

"My what?"

"Your cue to tell me about you."

"Like what?" He sounded almost scared.

"Favorite food, favorite movie, favorite song, parents, siblings, pets, where you live, where you were born, where you want to be, what you want to do, and favorite branch of the military."

She knew he would be thrown off and just end up telling her random stuff about him.

"Ribs, 'Raging Bull,' 'Gravity,' Bill and Linda, Owen, Sparky the Beagle, Downers Grove, Schaumburg, Lincoln Park, Wimbledon but realistically accounting, and the Navy."

"Good enough. Six hundred Kedzie Avenue, right across from the Half Price Books going out of business. Pick me up at seven tomorrow."

July hung up and sighed. She had never been that confident, especially with someone she barely knew. She didn't know why she decided to go out with him. Maybe because he had a beagle, or because he liked the Navy.


•
•
•

July didn't look for Eddy during school the next day. Her dad was headed back to Great Lakes, and she didn't want to look forward to a date when she couldn't look forward to her dad being there when she got home.

She took the bus home and went upstairs to get ready. The apartment was empty, with the leftover shepherd's pie stinking up the fridge when she got a bottle of water.

She sat by the window at 7:30 and thought Eddy would not show up. Her hair and makeup were done and she was wearing a tribal print dress with tights and heels. She decided to have some shepherd's pie.

She had just finished heating it up when she heard the buzzer. "Who is it?"

"Uh … expecting someone else?" Eddy asked through the intercom.

He was confident too, she thought. "Be right down!"

She grabbed her puffy coat and went downstairs. Eddy was standing in an equally puffy coat as the snow fell on him. She started to walk out the door but he held his hand out. "I'm sorry."

Her smile fell. "What?"

"I just," he looked down, "need to get to know you too, Lady Liberty."

"What?"

"I can't go out with someone I don't know." He looked at her with mischievous eyes.

She held back a smile. "Salmon, 'While You Were Sleeping,' 'Moon River,' Paulina and George, none, none, South Lawndale, Chicago, in Hollywood making movies, and the Navy because my dad is in it."

"No wonder you're Lady Liberty." Eddy held out his arm for her.

"You don't know how much I've given to this country," July replied, and they headed for his car to make the drive east.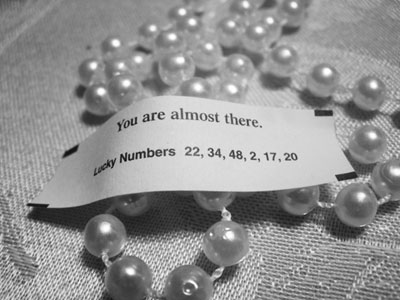 © Elizabeth E., Elmhurst , NY