I remembered
July 7, 2012
Tears caressed my pale, tender cheeks as a sadness I wasn't even aware even existed engulfed me entirely. I got to my feet slowly, leaving the bench that we had once shared vacant and lonely. Staring aimlessly at your slowly disappearing silhouette I ached to chase after you, to tell you that I was wrong, that perhaps we were meant to be together. That perhaps you were good for me. I struggled to process my thoughts coherently as my mind was drowned by memories which I was sure would haunt me eternally.

I remembered the night that you first kissed me. We were both soaked by the torrential rain, although the cascading precipitation had failed to dampen our spirits because we were together, and that was all that mattered to us back then. You had wrapped yourself around me, fiercely protecting me from nature. It was late and we both knew that my parents would be expecting me in bed within a matter of minutes. With that in mind you tilted my face gently towards yours, cupped my cheeks with your hands and kissed me softly. It was an innocent kiss, it was a tender kiss, it was our first kiss.

I remembered the way you kissed me after walking me home from a drunken party. You're breath tasted like beer; which you'd had far too much of that evening, but I didn't care. Of course I didn't. We had escaped from the company of my friends, who we both knew didn't approve of our relationship; they knew that you would hurt me. Perhaps I should have listened to them. I took your hand and led you to a quiet spot around the back of the building. You kissed me once, twice, three times. You pushed my back against the brick wall, raw lust and desire soaring through us both. This kiss was completely unlike any other we had previously shared, it was fuelled by a burning passion which frightened me as I was sure that it had the potential to consume us both in angry flames. Your hands raced greedily over my body and your tongue darted quickly into my mouth, searching it wildly. I pulled your torso tightly against mine, leaving no space whatsoever between us. I knew at that point that I wanted you more than anything.

I remembered the first time that we had to be apart for more than a few days. Although I was being treated to an amazing holiday skiing in the French alpes you knew that I would happily have stayed here with you, sitting on your lap, laughing at ridiculous Youtube videos and talking endlessly. We hardly had time to say goodbye to one another, our united mouths inseparable. You sent me one last time just as I was about to take off and leave you behind. I want you. That's all that it had said. Those three words meant so much to me, they were able to temporarily shut out my worries and concerns. They were able to convince me that everything was going to be ok, that we were going to be ok.

And then I remembered the day that she phoned me, the day that my world fell apart, the day that WE fell apart. I had had my suspicions, you were aware of that. I'd heard rumours about the two of you, but I was always too eager to believe your explanations. The problem was that I was in love with you. I loved everything about you. You could sing, I mean really sing. Every time I heard your angel like voice my heart literally melted. Do you remember the CD that you made me? I still have it, and I wonder if I will still listen to you sing. Not everyday, I know I wont be able to manage that although I'd like to hear you that often. No, I will wait until a moment when I'm sure that I am feeling strong enough to appreciate your talent without turning totally weak and attempting to contact you. But more than that, you were lovely, completely and utterly lovely. You were caring and kind and thoughtful. It's fair to say that you really were NOT my usual type. I had had a bad history with boys, as you knew. I generally fell for the "bad boy" type and I liked that you were different. Well at least I had thought you were before I spoke to her. However, her revelation changed my view of you completely.

She was your ex. You had been together for just over a year despite the fact that she had broken your heart repeatedly as a resulted of her inability to remain faithful to you. Unfortunately she seemed incapable of grasping the seemingly simple concept of fidelity. But then again, so did you. She told me how you had been seeing her, as well as me, for the past few months. She informed me of how only a few days previously you had been with her only hours before me. I felt as though my heart had been ripped from my chest at that moment.

I shook my head attempting to free myself from thoughts of you. I took in the autumn day around me, picturing your warm arms protecting me from the blistering cold and bitter wind. The trees swayed vigorously as the leaves which littered the floor of the park around me flew into a frantic torrent. I found myself overwhelmed by the smell of your excessive, and slightly distasteful, aftershave which still lingered upon my clothes. I missed you already. But I deserved better. I would never stop loving you. I would never forget how much you hurt me.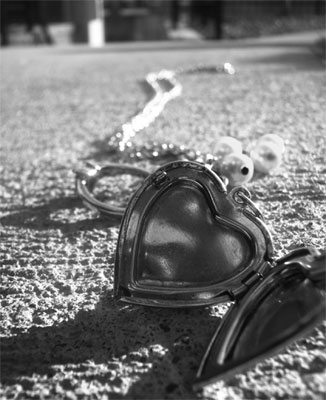 © Francesca Y., Robbinsdale, MN