My Bestfriend, the Love of My Life
November 16, 2011
'I love you Briar. I always have.' I say this to him now, when he can't hear me, can't react. I tell him the truth I've been hiding several years now.

The day was August 10th, 2010, at 11:23 am. My mom called me, 'Katelyn you might want to sit down.' she said. I was hesitant, but I sat. 'Alright mom, I'm sitting, what do you need to tell me?'

She waited. Saying nothing. It seems like a lifetime passed, waiting for the bad news. Finally though she told me. 'Katelyn…I'm so sorry.. bu..but Briar, Briar Horner just died.'

Of Course I didn't believe her. 'Your kidding, right mom? Please tell me your joking?' 'I wish I was hunny" She whispered slowly.

She picked me up at my dads and took me to the hospital, I'll never forget the feelings I had as I walked into his room. Tubes in the mouth, I.V.'s in his arms. He was gray. My full of life best friend was GRAY. I walked up to his body, and kissed his forehead and walked out.

August 12th. His visitation. I walked up to his mom. She hugged me and I couldn't let go. She told me something Briar had told her with his last seconds, Briar had been in love with me. I let go of his mom and walked out, not looking at the pictures of us, as little kids, as teenagers, as best friends.

August 13th, 2010. The day I'll never forget. I walked in and stood next to my mom, she hugged me. That's when the Preacher started talking to us about the short lived life of 16-year-old John Briar Eugene Horner, my best friend. The guy I loved for years. Blah, blah was all I heard. Then they brought Briar up to the front. 'Your better that the best, I'm lucky just to linger in your life. Cooler than the flip side of my pillow, yeah that's right. Complete unaware, nothing can compare to where you sent me, lets me know that its okay, yeah its okay, and the moments when my good times start to fade, you make me smile like the sun..' Forever known as Briar's song. After it was over, everyone walked out, to get in their cars to go to the burial. I stayed behind a little bit. I slowly walked up to his casket, and muttered my final good bye. 'I love you Briar, I always have.' Placed two photos of us under his cold hands. One from when we were little, hiding behind the couch. Ill never forget that day, it was the day Brair and I kissed to see what all the fuss was about. Then the last picture of us, we were in his room, playing x-box and getting physical because I was beating him. Then I kissed his frozen cheek, and for the last time, I walked away from the love of my life, knowing it's only a matter of time until I see his smiling face once more.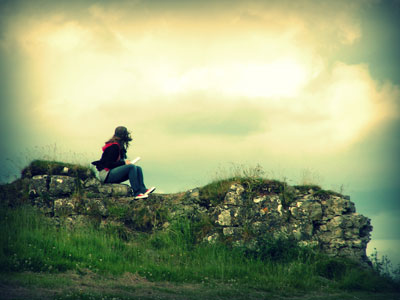 © Caroline C., Coronado, CA