Rain.
July 16, 2011
It was going to be another day for you.
You were walking down the street, on your way home from school, another Tuesday in your little hometown. You were thinking about him as usual. You looked up at the sky, saw the dark clouds, decided that it would rain soon without any particular inflection, and continued walking and thinking about him.

Lo and behold, his motorcycle appears on the road behind you. You know the roar of his engine, and the deepness of his voice. They both cause your heart to react violently.

And he stops right next to you, and says in that thundering rumble of vocal chords: "Hey. Want me to drop you home? Looks like it's really going to pour."
He has a slight smile on his face, because he knows you won't decline.
You hate yourself and him as you do exactly as he expects.

You sit down behind him, contemplate putting your arms around him, and dismiss the idea, mainly because it is just not required. You don't want to seem clingy.
Just as he picks up speed, the first raindrops begin to fall.

The first one that hits you feels like a tiny ice crystal, cold and perfect. And then they all come down. You lift your face to the sky, feel the wind in your hair and the drops on your face, and close your eyes and smile.

And you realise that this is something you can only do alone.

You imagine yourself with him. You imagine waiting for him after school, riding back with him everyday, smiling and talking. Going out on dates.
And after a couple of months, maybe saying goodbye. Being heartbroken. Feeling deserted.

And then you picture your everyday. Thoughts and poems and stories. Your own little world. Which you would probably have to give up.

You realise how easy it is to let go when you know what is worth what.

As he drops you off, he asks you out.

You smile and say, "No thanks."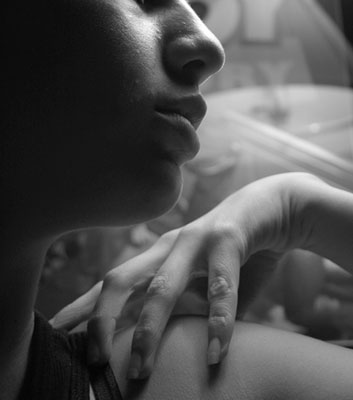 © Rebecca B., Santa Clara, CA