Twizzlers and Love
April 4, 2011
It was one of those sweats and T-shirt days; you know when you don't care what you look like? Ya. Well that was today. I really didn't care that the snow was getting my golden brown hair frizzy. Or that I got my shoe lace stuck in the door.
Ya. It was one of those days.

"Hey Squirt!"
I looked across the counter to see Maurice standing there with a huge grin
"Hey Maurice, how's it going today?"
"Slow as ever! Oh and your mom called and said you are going to have to take the bus home."
"Another late night?"
"Yep."
" Well thanks."
"No, prob, Squirt!"
Maurice isn't your typical staunch, iceberg librarian. She's vibrant, alive and has one of the loudest laughs you'll ever hear. Not to mention she is as wide as she is tall. The bottom line is she's amazing! I shuffled over to my accustomed corner and threw my book bag by my chair. I really didn't want to do homework, but I had a history exam, a paper on CFCs (Chlorofluorocarbon) destruction of the ozone layer, a report on Einstein and a bunch of other things. So I sat Indian style on the floor and began my laborious studying for my history exam. After an hour of homework my legs became numb from the knee down.
"Oh, joy."
I mumbled as invisible needles pierced the bottoms of my feet.
Like a hunter, hunting for his wild cat I searched for Al Gore's Earth in the Balance. I had just found it when Bach was interrupted by Maurice's sunny voice.
"Greetings fellow book lovers! It pains me to inform you that we are currently snowed in. All buses have been stopped and police have advised for people to stay inside. So in view of this we ask all personnel to stay in the library till further notice. Please come to the front desk for further information. Thank you."
As Bach finished his piece he was accompanied by groans of anguish and cheers of joy. I was first chair in the groaning section. I rested by head on the shelves in utter defeat allowing the fog of voidness to roll in.
"You seem thrilled to be stuck here too." A low clear voice said
I jerked my head up and came face to face with perfection. His smooth tan skin lit his green eyes on fire, and his auburn brown hairs length accented his chiseled jaw line. I had seen this guy by the history section every day after school.
"Absolutely thrilled." I mumbled.
"What about you? Do you like being stuck in the library?"
"I'd much rather be stuck in a candy store." He said smirking
I giggled "I think a coffee shop would be better."
"Naw I prefer Twizzlers."
"I actually have some in my bag. Never leave the house with out them. I think I can spare a few if you want some."
"I can never say no to a Twizzler."
I smiled, somehow I felt like I had know this guy since first grade.
"I don't even know your name." I said walking back to my chair.
"Its Arthur, but everyone calls me Joe."
"Joe?"
"Ya. My middle name is Joseph."
"Ah. I see. I'm Guinevere but most call me Gwen."
"Cool name."
"Thanks. I kinda like it too, but it gets old when I get valentines from guys asking to be my 'knight'" I said handing him a hand full of Twizzlers.
As we sat in silence eating our Twizzlers, I studied him. He had shed his corduroy jacket and his charcoal grey T-shirt was just tight enough to see that he was modestly muscular. As I critiqued further I met his eyes. Did he think I was beautiful? Did he feel the connection that I felt?
"What do you think?" he said breaking the silence
"About what?"
"The ozone layer and CFCs."
I contemplated my answer.
"Well I think it's been blown way out of proportion. The ozone layer is only being depleted at the polls and it's so minuscule that it's not affecting us humans."
"I think your right, but I think we should have just monitored the situation instead of banning it completely."
Our conversation about the ozone layer soon morphed into reveling our dark secrets in middle school. Turned out Joe was the one who burn the detension book! We talked about our life as a junior and our favorite soccer team, and then began a game of thumb war.
"First crush."
"Jonathan Myers." I said concentrating on my thumb "Favorite ice cream."
"Mint chocolate chip. Favorite color."
"Kelly green. Favorite band."
"Band Perry.
As the last words left his lips I pined his thumb.
"1, 2, 3 A, B, C. I win! Now, I get to ask you a really hard question." I reminded him
"Hit me."
"One more game, I need to think of a good one."
Joe just rolled his eyes.
"You just want me to have an anxiety attack."
And the frenzied thumb war and my thoughts began. Fist crush? No, too easy. Last date? Not really any of my business. My brain raced to find the perfectly hard question.
"I got it." I announced
"Shute."
"If …" I held out the "if" for added drama " you only had one hour to live what would you do?"
His thumb froze and his forehead crinkled as he pondered my question. He absent mindedly began to rub my hand with his thumb.
"If I only had one hour to live I would tell this girl that since the first time I saw her l fell for her. Id tell her how amazing she looks in sweats, and that her smile lights up my world."
I was awe struck. It was a miracle that the world can still produce decent guys.
"Wow, Joe that is amazing! Why haven't you told her?
"She's too beautiful for me." He said as a small sad smile appeared on his face. "What do you thing?"
"Is she a Barbie or is she just a regular girl?"
"She's not fake. It that's what you mean."
"Well then I would tell her what you just told me, and I think she might just surprise you." I said I encouragingly punched his shoulder.
He gave me his drop gorgeous smile, which I swear it lit up our shadowy corner.
"Well then…"
He whispered as he brushed a stray strand of my hair out of my face. My heart began to beat like no mans business, as I felt his touch.
"When I saw you walk in here in the beginning of the school year. My heart yearned for you, the moment I saw you I knew I belonged with you."
Joe said as he caressed my cheek.
"I never could talk to you because I thought you where too beautiful for me."
"But tonight you…"
"I couldn't take it any more I had to talk to you."
He lifted my face and he stared into it so intently…pleadingly.
"Gwen, I love you."
I wrapped my arms around his waist and buried my face in his chest, relieved that he felt the same way.
"I love you too."
He held me so tight as if he was afraid that I would disappear never to be seen again. I did not care that his chest was hard or that he was holding me too tightly, all that mattered was that I was with him, in his arms, and it all started with Twizzlers.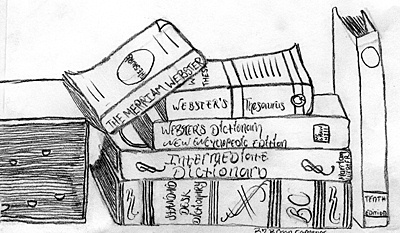 © Bryan C., Lovelock, NV