The Boy Meets a Girl with Unruly Hair
March 4, 2011
There is a girl who has the biggest hair. It grows, grows, and grows! Its big black curls fall to the floor like a cascade of steel wool. It's knotted and tangled; yes it is truly a site to see!

The girl is always sad, because all the pretty girls with smooth, perfect hair laugh at her. No one will be her friend. They call her the Wooly Mammoth or the Coal Mine Explosion. She always sits by herself, and all anyone does is stare.

First the girl tries conditioner, but not even the whole bottle could stop the frizzy mess. Next she tried combing it, but she lost a few brushes inside her mane and couldn't get them out. If she managed to keep hold of a comb, it would just snap and break.

Then one day she got so mad that she tried cutting it all off. But her scissors broke apart. She tried a knife, but instead of cutting her hair, all it did was sharpen the blade.

"This is it!" she cried," I'll never be normal!"

The girl sat down in a mass of curls and cried. She said she hated the world.

The next day she was sitting in her usual spot, wishing she could be like all the other girls. Then I came up behind the girl and tapped her on the shoulder.

I said to the girl," Why do you always sit there and cry? You are much too lovely," I pointed to the other girls," please don't wish you were like them." I took her hand and pulled her up. I looked into her bloodshot eyes and said to the girl with the unruly hair:
"You're a sweet girl, and you're so beautiful."

Then the most wonderful thing happened. A breeze swished by and lifted the girl's hair into the air. The wind unraveled her wild mane strand by strand, and her hair became smooth and long.

Because someone loved her hair, and believed she was beautiful, the girl never worried ever again. And now every time I look at her, I swear the wind is still dancing in her hair.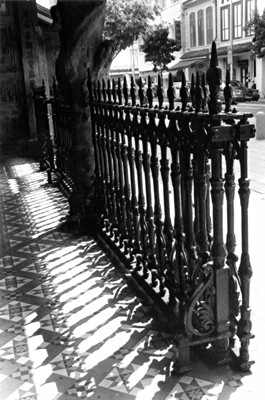 © Gretchen L., Edina, MN