l'amour dans les étoiles
December 28, 2010
She sat on the beach, arms wrapped around her legs. She leaned her chin into her knees and tried to stop the tears from falling down her cheeks. She watched the waves of the ocean crash onto the sand. Water lapped at her feet as the sky grew dark and the stars began to shine. Then she felt him.

He walked slowly across the beach to where she was sitting. He eased himself down and laid a hand on her knee.

"Why did you follow me?" she asked, her voice quiet.

"Because you left," he told her.

"But why?"

"Why did you leave?"

She rolled her eyes. "No, why did you follow me."

He hesitated. "Because..." he began, then stopped. All his regular gusto had left him, leaving just an open-hearted boy in its place.

She turned her head, waiting for an answer. Her eyes glistened from the tears she couldn't stop, her face bright from the moonlight, and warm from the light of the stars. Instead of answering, he leaned in to touch her lips with his own. "Because I love you," he murmured to her. He took her hand as she leaned her head onto his shoulder. Together, they watched the moon's reflection on the ocean. They didn't speak. They didn't need to.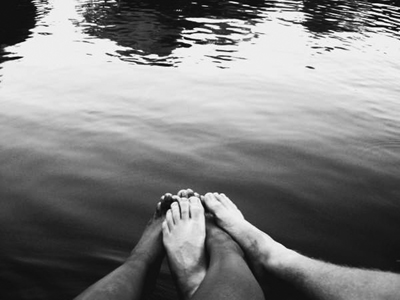 © Michelle W., Ada, MI