A Summer To Die For ch. 3 pt. 1
June 17, 2010
I had been here three days and I already wanted to be back home. There was nothing to do, no hot guys to pursue, and I'd only caught brief glimpses of Matt. Board-games? Way too many. Parties? Way too few. I'm going to have to talk to someone around here, like Matt, and find out where they were. I think he left for work, though. I'll just go and browse the shops on Main Street and see what' there.
Main Street was quite quaint and fitted the town quite well. It had a few shops with about half as many vacant ones littered out through the mix.
This wasn't the kind of Main Street I was used to. The Main Street in my town was wild with fast food restaurants and those too flashy stores that bug you so much you wont even set foot into them. Lots of flash and BAM! Here, they just had that cozy feel that made you want to explore.
I went in a few boutiques before I ventured into Alice's. Alice's had a bouncy pop bat drifting out of the speakers and bright colors covered all the shelves. This was the kind of store I liked. Finally.
It was summer and this was a costal beach town, and my bikini was from last year. So why not find another one? Black, blue, pink, polka-dot, they had them all.
"Um, excuse me?"
The blonde standing next to me putting bikini tops away just looked over in my direction, "Yes?"
"Do you have this top in a medium and these bottoms in a small?" I liked this store because you could mix and match you suits. A small top was just too small and medium bottoms were too big; we didn't want a repeat of last year. I had to come to a place like this. Or buy two sets of the same swimsuit, either one worked. I liked the first one though.
"I think so, let me go check." While the girl left, I started to look at other styles. I found another cute pink with green polka dots top in my size. They matched well with some pink bottoms that had green side ties. Next saw a bikini top that had a bunch of mini stop signs all over it. "Wow, this is the exact bikini my father would buy for me."
"Oh, I know." The salesgirl had returned without my top, but had the white pair of bottoms I'd requested. "My Dad would pay big bucks for that." We both laughed.
"I'm Teagan," The salesgirl paused, "Andrews."
"Leslie Peak." Awkward pause, "So do you work here?" Yes, I knew she did, but there was never anything wrong with asking questions you already knew the answer to. They got the conversation rolling and you could tell if someone was lying to you, it was a win-win.
"Yeah, I work here and live here in all the boringness."
"It can't be that bad."
"You couldn't imagine." She laughed, so I took it as my cue to laugh along with her. "So is this all?"
"Yep." I'd found a paisley top with matching bottoms, the polka-dot outfit, a navy top with anchors and white bottoms that had a thick tie on the side, another pair of plain white bottoms, a pair of plain navy bottoms, and, yes, the stop sign bikini top. I had to be funny. I didn't think this was too much. Yes, I had brought along four other tops and three bottoms, but I needed some new gear.
After I'd paid and was putting my change back into my wallet, I heard Teagan ask me something. "Do you, um, do you know anyone here?"
I didn't think Matt counted as anyone since he probably didn't know me. "No."
"Well, there is a party tonight at 1368 Lumley Road. Just go out of town from Main Street toward Mason, after about ten miles, make a right on Johnson, then go about three more miles and make another right on to Lumley Road. You might have to park a little way away, it should be quite lively though. You could meet some friends there since you are going to be here the whole summer."
"Yeah, thanks. I'll try and make it. I really, uh, will." If I could find the place. "What time do you have lunch?"
"My Mom is taking me out today. I'm off tomorrow if you want an actual tour of this town." She paused. "I'm sure your…" She let her words trail off. I wasn't about to answer and look like a loser who didn't know anything about coolness. I'd given enough already to not look like the alpha I was. "Your who ever," Her blasé tone told me she was an alpha, too. "they probably showed you the 'town'." Aunt Sadie hadn't in fact, but I wasn't going to vocalize this. "But I'll show you the real town. We'll have to wait until after dark though for you to see some of it and really get the 'full' effect." Teagan smiled.
"Okay, I think I'm free tomorrow." Yes! My attitude was back.
"I don't know if I'll be at the party or I would pick you up."
"Yeah," I said, "It'll be nice to meet some new people, get involved."
Teagan made some kind of mmm-hmm noise and said, "My number is 820-635-1862. Call me if you need anything or need to know anything." I put the number in phone and then she spoke again, "Well, oh! Wait! You're living with who?"
"Sadie and Mike Tanner. 1805 Bridgewell Lane. Right along the ocean."
"Okay, see you tomorrow at 10!"
"Bye." The bells jangled as I left the store.
Today went great, well so far. I'd met a new friend and go invited to a party. Today was going better that I could've ever imagined. It was only 1 p.m., so I better get some clothes for tonight.




It's official, I look hot. After a few hours of shopping, I had the perfect outfit. A new pair of khaki shorts that were just a little too short and a burgundy tank-top that had a few ruffles. I looked hot, very hot. This party was going to rock. I just had to arrive first, that was the problem. I knew how to manipulate adults, but manipulating Aunt Sadie gave me a dirty feeling inside. I had to, though because there was no way I was going to tell her about a party; you just didn't tell adults things like that. You just didn't.
Teagan said she'd be here around 9:00. (If she came that is.)
"Hey."
"Oh, hey. Um, Teagan Andrews--do you know her? Well she might," How could I phrase this? "She might, uh, stop by."
"Yeah, nice girl." Aunt Sadie returned to her crossword puzzle.
"Uh, bye!" I (attempted) to dash out the door before she said those words my Mom had so often repeated. The four worst words ever. Well, maybe not ever, but they were bad: Be back by 12.
This was unexpected though, "Be back by 2!"
"Okay!" That was a gift. She hadn't talked to my Mom much about that apparently. Or she had, I usually got home around 2, not 12 like my mom so wished, so maybe she decided to make it even. I was (almost) always home by 2. There was no doubt I would be tonight.





It was 9:48 and Teagan still hadn't came. She wasn't going to, I could tell. Just as I was about to go back inside, Matt pulled up in his truck. I tried to make it look casual, like I was out for a walk--in this outfit. Ha. I started walking down the driveway and toward the sidewalk, which was also the same direction of his truck.
"Hey."
"I turned around. He was already behind me because I'd reached the sidewalk. A smile lit his face. "Hey Matt."
"How're you?" That cute southern twang in his speech was present. Heck, it was omni-present.
"Fine." I paused, might as well go ahead and flirt, I always did. "How's your bad self doing?"
We both laughed and he said, "As good as I can for the situation." A sobering answer, I ignored it though because I knew what he was referring to: Melissa Rawlins. I'd almost forgotten. Almost.
"I haven't seen you around for a few days, where've you been?" Matt tilted his head and leaned back against his truck as if he were too tired to stand as he asked me the question.
"I've been wondering the exact same thing." A smile lit my features. "No, I haven't been doing anything the past few days. Nothing."
"Where did you move here from?" This was an unexpected question.
"Oh, I didn't move here. My Aunt Sadie lives here and she offered for me to come and stay with her." Then I explained the rest of it. I don't know why, but I found myself opening up to this guy.
"Break-ups suck. So do forceful mothers, though."
"And pushy best friends." I laughed.
"Oh, yeah, they suck, too." Matt said and laughed along with me.
"So, Matt Young, do you reside here all year long? Or are you just a summer person like me?" Oh my gosh, did I just use the word 'reside'? Oh gosh.
"Yeah, I live here all year. My dad lives in Montana so I stay here with my mom and her husband." His face soured a little at the mention of his step-dad. "And my brother, too. He lives with us. Total geek, but smart as heck. Actually got accepted into Harvard. He's going to Yale though. Josh didn't get a full ride, but he got out of paying a lot of bank." Matt smiled, "I love him to death though. I just wish he could've had more of the traditional high school experience like me."
"What position were you?"
"What?" He looked at me questionably, kind of like I was crazy.
"What position did you play on the football team?"
"Oh. I was quarterback."
"That sums up your high school experience enough then." I laughed.
"What were you like?" I noticed he didn't deny my accusation, that meant I was right.
"I was," What could I say to tell how I was in high school, well, I was just like him. "I was the popular cheerleader that was the girl version of you. I wasn't a sl** though."
"Mmm-hmm…" Matt walked over to the passenger's side of his truck and pulled out a blanket. He then spread it out under a pretty tree and held up a finger signaling he would be right back. A few minutes later he emerged from his house with a couple of glasses and walked over and handed one to me then took my free hand (OMG!!!) and led me to the blanket. He dropped my hand though.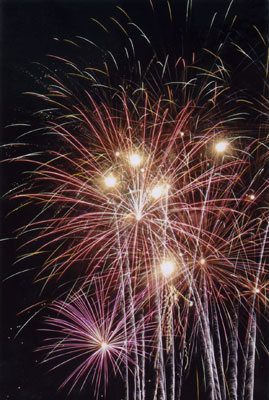 © Michael D., Hawthorne, NY