"Where Love Leads Us"
September 25, 2009
It was the middle of the night. What we had was over. I kept thinking of all the things you said, and I followed my feet, leading me to you.
You never said you loved me, but I saw it in your eyes, though you can't see that anymore. In your eyes, ther's just a blank stare, as if there's no recognition. The sky darkened overhead. I miss you.
I pull my jacket closer to my body, keeping warm as I trudged forward through the snow. Summer is over, but memories of you are still clear in my mind. I wish to see you once more, just to watch you disappear.
My life has missing pieces, the main one being you. I see you up ahead, in the shadows of a tree. It's our secret place, the only place now we can be together. I swallow words. What can I say that I haven't? I can't make you come back to me.
The moon is up in the sky tonight, and it shines light upon the place. I see you now clearly. Warm tears hit my cheeks. Our love was strong, but I shouldn't let it die. I can't just forget what we once had. I still don't believe it ended so soon, just after I fell in love with you. I guess it was too much for you to deal with. I guess you weren't ready for it.
I kneel on the ground beside you, and feel snow fall upon my face. I lay a single rose on the ground beside you as an offering of my love. I don't know if you understand, if you hear me when I say,:
"Rest in peace, my love."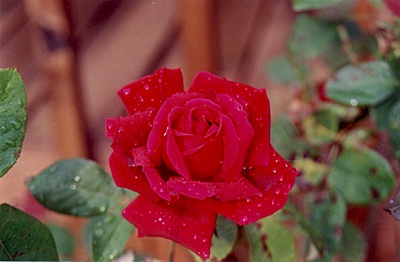 © Jami U., West Hempstead, NY