Daydreamer
August 28, 2009
The days blur together. Hour after hour she sits on her porch swing, watching each day fade into the next. All she can make out are the colors--the bright green of the trees, the vivid blue of the sky, the gray of the overcast clouds, the shades of pink, purple, and yellow in the flowers around her. It was so easy to lose track of time in this haze that she was so sure would last forever; or at least that's what she told herself. It will never end. Never.


Another summer night. The fire danced, lightly leaping around and around, higher and higher. Embers glowing brightly around the bottom seemed to encourage the flames to jump to even greater heights as the dark smoke flew into the clear night sky. Her eyes stared unblinking into the dancing fire, hypnotized--daydreaming, lost. Of course, that was the way it always was anymore.


He grabbed her hand, holding it tightly. The fire and everyone around it disappeared in that instant. He pulled her pale face toward his, his bright blue eyes gazing intently into her own blue-green eyes. Smiling, he whispered into her ear, "Your eyes are just like you, Beth. They couldn't make up their mind so they decided on the best of both worlds." In spite of herself she smiled back at him, but he read her face as easily as if it was one of the many books she had hidden behind. His strong arms embraced her, and she held on as tightly as she could.


For years, she had dreamed of this. Now all she could do was look back on the years and wish for more. Her thoughts drifted back to the first time she fell off of her bike, and the tears that streamed down her face with that first sharp pain only to be wiped away by her father's caring hands. She felt the warm sunlight around her as she walked on the red dirt roads, laughing and talking with her sisters. She heard her heart pounding in her ears the first time she had ever snuck out of the house to meet her best friend. The memories came from everywhere, surrounding her, crushing her. And now there was him.


He led her away from the bonfire. Standing by his white truck, he gently kissed her forehead. "This is not goodbye," he asserted, drawing her closer. He let go slowly, and then, without a word, he leapt into the driver's seat, leaning out of the window as he said, "I'll see you later, my little daydreamer." Then he drove away, into an uncertain world. The tears slid slowly down her face, but she simply let them fall, refusing to wipe them away.


Her van was packed, ready for her in the morning. Another path lay before her, a future that only she could make for herself. She had always dreamed of this. So why could she only dream now of the beautiful world that danced in his eyes?


Her dreams were obscured somehow, and they too were drifting away . . .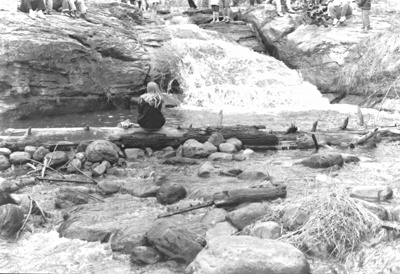 © Andrea E., Phoenix, AZ