pending beginning
January 31, 2010
A slow fade. No light – Still no light.

Then, there's one spark. A small dot in the center spreads dark greys over thick blacks. Still hazy, still dark, but growing. Grey, grey spreading. A dull pain envelops the brain. Lighter, lighter now. Keep growing grey, and so grows the ache. As the fog is removed from their eyes, it seems as if their vision is being extracted. An invisible thread winds around the pupil, pulls, and beckons, 'See again.' And the light becomes lightest, and lines creep in from every angle. Shapes fill the lines and color seeps into the picture, building in saturation. The image of everything pierces until the ache becomes so unbearable that it – ceases.

'Forest, lights, stone, and?' nerve signals frantically searched for coherence within her brain.

'Was asleep, want to sleep, do I?" his sensory receptors lazily began to come about.

And all the while the forest stared and the stone stared…hungrily.

Her senses were clearer than before. She took everything in: the grass wasn't just soft, it was ticklish and spiky, but comfortable. The sky wasn't blue, but an off-grey and the wind brought it to her face, into her mouth. She could eat the wind, and taste it, taking a big bite out of the smooth sky. Behind her trees, a forest of them, were tall, gentle guardians that looked ready to swallow her at any moment. And before her was a great curiosity, which lay sprawled for the taking, yet coiled and ready to strike. She did not question why or how she was lying on such ticklish grass. Her reasoning was incurably shot. So she sprang up. She leapt. She ran with all force to what lay defenseless before her, into an entanglement of ivy and stone, and what seemed to be secrets.

There was something hard behind his head, and his shaggy hair caught in it when he leaned forward. He couldn't remember anything, but that was a familiar occurrence. Slowly tilting his head up, he caught glimpses of grey sneaking through the lofty, leafy canopy that the tree had spread out to shade him. The usual drowsy feeling gradually inched away from his core to his limbs, lingering a little at his feet and hands before fading out. Still, he did not stand. He moved his hands to the ground, as if to ensure their solidity. Dark waves fell over his eyes like curtains, and when he looked up, pushing them away, a vision, a slight shadow was careening towards him. If his mind was blank before, it was even more so now, covered by a startled expression.

There was a magnificent stone castle. Beautiful, beautiful smooth stone, a perfect mix of browns and grays held up high window upon high turret upon high window. Vines of lush green spades, fully engulfing the lower and middle sections of the building, had nearly climbed to the very top.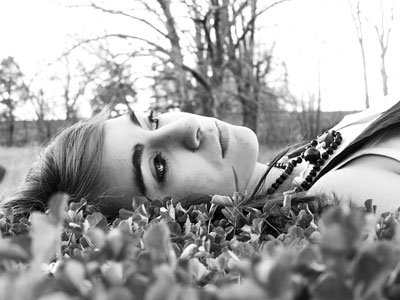 © Jasmine R., Bourbon, MI