Lady Donna
MAG
Lady Donna watched her brother, Cort, spar in the lush courtyard beneath her window. She knew she could beat him with a sword, bow, or horse. She also knew that her hopes of being a knight, or having any type of adventure, were futile. She was a noblewoman, and such things were not allowed.

She liked observing from above because she could watch for her special knight. His name was Sir Andrew Cassidy. His abilities in sword fighting were almost legendary, excluding those of Sir Launcelot du Lac. Sir Andrew would often spar with her brother, and it could be believed that they were friends.

Donna's heart fell realizing Andrew was not in the crowd gathered to watch the match. She tried to continue reading the book in her lap, but her eyes wandered back to the fight. The rhythmical movements, the rush of excitement at the swing of swords, she yearned to be part of that world, a world only accessible to men. It was times like these that she wished she had been born a boy.

Frustrated, she left the window and descended the stairs, heading outside. She knew where to go to cheer up. Walking along the dirt roads of the small town, she was easily recognized in her royal attire. Her dress of topaz and amber brought out the color of her eyes and raven hair, making her beauty unsurpassable.

She arrived at the blacksmith's forge. "Good morrow, master blacksmith," she said teasingly to the tall, muscular man in front of the flames. He looked up momentarily, a smile creeping to his lips as he continued his work. When he was done, he wiped his brow.

"Good morrow, my lady. To what do I owe the pleasure of your company on this fine day?" he replied in the same tone of amusement. Though separated by class, they had been friends for years. Kevin was one of the main reasons she enjoyed the activities she did.

"Boredom, I'm afraid. Cort is sparring, and I feel excluded, so I came to see if you would spar with me."

"My apologies, Donna, but I must work. So many knights come to my forge demanding my trade, I cannot pause for a second." He picked up a sword on the anvil, putting it into the coals. "Since dawn I have slaved, and yet my work is not finished."

"Why so much work? Yesterday also you were busy."

"The tournament of the Summer Solstice has begun. I have to finish these swords and shields."

"Can I help in any way?"

He smiled weakly. "Your beautiful smiling face is all we can afford now, my lady."

"The knights whose swords you mend shall be privileged indeed to have your craftsmanship on their side."

"Many thanks, my lady. Good day."

As she walked home, an idea began to form in Donna's mind. She ran to Cort, who was resting under a tree.

"Cort, you know that I am good at sparring, right?"

"Yes, I know only too well. I'm still recovering from our last fight."

"There's a tournament in town for the Summer Solstice. I want to enter it."

Cort's brown eyes studied his sister. Older by only two years, he had become accustomed to the way her mind worked. "You are not asking for my permission, only my help."

"Yes, will you help me?"

"Aye, sweet sister, I will. I only feel sorry for the knights against whom you will fight."

Hours later, Donna checked herself in the mirror, making sure her guise was in place. Her long hair was braided in a tight bun under Cort's hat, her womanly figure concealed by his baggy shirt. She tried to keep her face from reddening at the realization that she was wearing pants that formed to her every curve. "All right, Cort. Methinks I am ready." She turned to him. "What do you think?"

"I think you are the most beautiful boy I have ever seen," he replied with a smirk.

She hit his arm. "Be serious!

"Donna, you look fine. You're a very convincing boy."

"Good, they won't let me in otherwise, and everything will be ruined."

"Be merry, sweet sister. Everything will go as planned."

"Wait," she said. "What will my name be?"

"Don Hagan," he replied after a moment's thought.

"I know that the 'Don' is from 'Donna,' but what is 'Hagan'?"

"It is a German word meaning 'strong defense.' Believe me, little sister, you live up to that," he said affectionately, gently tweaking her nose.

They arrived at the grounds a short while later. In this tournament, teams of two knights fought in each match. Cort would be "Don Hagan's" partner.

One by one, they took on pair after pair of knights from across the country, beating each with amazing ease. Cort was good, and so was Donna, but together they were unstoppable. Soon, they were in the semi-finals, then the finals.

"Now the final match before we crown our Champions of Swords in the Summer Solstice Tournament," a judge announced in a booming voice. "In the first round: Lord Don Hagan against Sir Conrad Mathers. The second round will feature Lord Cort Shanahan against Sir Andrew Cassidy." The crowd rose to their feet at the sound of each name. "If a tie occurs, the opponents will be switched."

Donna's heart dropped in disbelief as she saw Sir Andrew, his smile making her melt, his blue eyes seeing into her soul.

"Cort, I can't do this," she whispered.

"Donna, we've come too far."

"I can fight anyone but him."

"Conrad? You could whip him until he was butter without breaking a sweat. He lacks defense; he's all about striking the first blow."

"Not him. The other one."

He looked up at the opposing team, then back to his sister. "What's wrong with …" He saw the look in Donna's eyes. "Oh, no … please don't tell me you have feelings for Andrew."

"Cort, I didn't know–"

"Donna, he's not going to begrudge you a victory. He doesn't even know it is you."

"But I'll know," she persisted.

"Look, we may not even have to worry about it. You'll beat Conrad, and I'll beat Andrew, and we'll go home with the prize money. We won't need the tie-breaker."

Donna nodded, trying to stop her heart from racing and focus on the fight before her. She needed to win this, whether or not Sir Andrew was watching.

But it did not go as planned. Donna beat Conrad easily, but Andrew beat Cort in an unexpected twist. In the tie-breaker, Cort beat Conrad as easily as his sister had, as Donna dreaded her fight.

I can do this, she told herself. As Cort said, he doesn't know it's me. But that was not enough to quiet the sick feeling in her stomach as she realized that the time to fight had come. She rolled her shoulders, trying to focus. Unfortunately all she could see was Andrew's handsome face.

Cort stood beside her and patted her back. "Don't let him know that you're a girl," he whispered. "I don't think he would want a woman who can fight like a man. You can do it, Don. Give him a fight he will never forget."

Inspired, she walked onto the field. Her heart racing, she shook Sir Andrew's hand. Closing her eyes and saying a prayer, she felt her breath hitch as the fight began.

At first, Donna was clearly beating Andrew, who was on the defensive. However, soon both were on offense and exchanging blows. Cort watched his sister fight in amazement; she matched Andrew blow for blow. Soon, there was no way of knowing who was winning. The graceful dance was rapid, their swords flying in brilliant arcs and crashing together.

The judge walked onto the field, halting the match with a wave of his hand. "This match is ruled a draw. The winners of this tournament are the team of Lord Cort Shanahan and Lord Don Hagan!"

The crowd cheered, and Donna beamed proudly.

"You fought bravely, Lord Hagan," Sir Andrew said, extending his hand.

"You, also," Donna replied.

The following day, Sir Andrew approached Cort as he warmed up for sparring. "Cort, where did you find that man you fought with yesterday? He was unbelievable."

"He is an old friend who was passing through. If you're lucky, he may return one day." He eyed Donna knowingly as she sat in the shade nearby. She smiled and turned back to the book in her lap.

"If I'm lucky, he will never fight me again. He nearly severed my arm."

Donna watched the sparring match begin with hope in her heart. Maybe one day she would fight Sir Andrew again, and beat him. She smiled. Maybe on that day she could fight him as Donna. She shook her head, looking at her book once more.

Moments later, she peered at them again. Sir Andrew caught her eye and smiled, giving Cort the perfect opportunity to deliver a blow that knocked him off his feet.

Donna laughed. Maybe.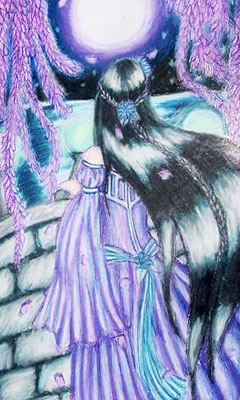 © Anonymous