Toward The Railroad Tracks [The Last Song I Ever Wrote For You]
April 20, 2013
It's been awhile, the pavement ends and I'm back in my small town,
This was home to me for 18 years and i miss comin around
I slow the car and stop beside the big old tree we used to climb
outside the corner store we used to go to in the summertime.
I get out, wander slowly past the church where we would go
Every single Sunday with our families, and head down a country road
Toward the railroad tracks
And suddenly I'm back

With you, in the summer,
And you're saying my name
And I'm laughing, til I'm crying,
cuz you drive me insane
And cuz I love you, I can't help myself
And you lift me up and you spin me til
we're dancing
and you're smiling
And I realize you're all I ever wanted.
All I ever wanted.

I'd come back around this time of year for the season
Even though Christmastime wasn't just the reason
Cuz I think you know
We'd run through the snow in my old back yard
Til we fell into a field underneath the stars
And I think we fell in love a million times
I swear on my life that you've almost been mine
Just a missed opportunity, that's what romance will do to me
Every single time.

Back to reality, alone in my apartment
With snow outside my window, Instead of you, tossing rocks
So I close the curtain and turn off the light
and hide beneath the sheets
to keep myself warm
and safe from thoughts of you when I fall asleep.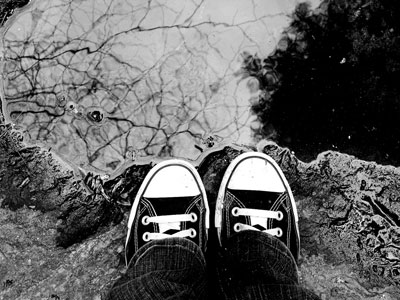 © Michelle B., Blairsville, GA