The Path of Past Tense
July 31, 2012
The stars fade into a sea of glass.
Their shards of loneliness do fall,
Upon the wanderer as he passed
The memories of a loved one's call.

The ringing bells of reminiscence
Drowned the truth from weary ears.
As his feet trod down the road of past tense
And through rivers of regretful tears.

"Join me, my love" He called in anguish
Staring at a reflections face.
That smiled with his fading wish
And disappeared without a trace.

His blind hands grappled for a morsel,
A hint of his now rotten feast.
Biting into the poison apple,
That raised him to unsteady feet.

An upright knife that shined of silver,
A rope which tied the knot that broke.
A foolish man turned to a killer
Of all possibility, of all hope.

His life is now dispersed in ashes,
Mingling with his loved ones dirt.
But with death happiness clashes,
But not so regret and hurt.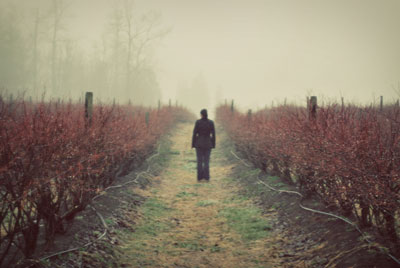 © Molly H., Lynden, WA