Department Store
October 26, 2014
The Mask Store is open,
its revolving doors whirling wide.
People ebb and flow through its entrances,
Through this I ride a human tide.
Significance, selfishness, and pain,
get swallowed by this store-they all but disapear.
One's trrue story, whether it be true or not,
is hidden here.
An angry cycle puppeteers my days-where I find myself here more and more,
and of all the masks that are mine,
and of all the future ones I will buy,
my laughing one is the most divine.
The validity of emotions,
and the diversity of souls,
is corrupted by jealousy
here where makse are sold.
You must always check the fit
of aforementioned masks,
before proceeding to a chashier.
"How much are you willing to spend?" They will ask.
It is then when I look outside,
at strangers strolling past.
"Is my true face that unfounded?"
I have often asked.
But hen I go to leave,
tokens of my integrity clattering on the checkout stand.
Ambiguity wards off discernability as
outside I go, mask in hand.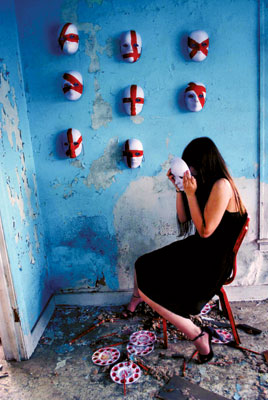 © Narongsukchai T., Sachse, TX