Bastille
June 20, 2014
Bastille
If I could storm the fortress that is my brain--
My runaway,
Traitorous,
Betrayer of a brain,
I'd be happy.
Like the Third Estate, my muscle and bone and heart cells rising up against their master,
My body could storm the Bastille.
And what next?
Would the Terror follow?
Would my bone marrow or my heart or my lungs or my gonads act as Robespierre, suffocating and beating my brain into submission?
Would I be free?
Ah, but I don't think it's that easy.
Were my brain hobbled, I would be a shadow, nothing more. Darwin would sign my death warrant, and it would be carried out on the streets of America.
My sentence would be handed down in phrases--
No marketable skills--
Poor physical condition--
Social handicaps--
No connections--
Poor with numbers and not personable--
I'd rather die by my brain than live without it.
I and my brain--
We need each other.
Maybe the Third Estate and the First needed each other, too.
Maybe tears streamed down the faces of the peasants as they released the rope that held the guillotine's blade above the neck of their oppressor. Maybe they were scared.
Maybe they cried.
I know I am.
I know I do.
Maybe the proles gathered their courage,
Although they knew that courage wouldn't help them at all.
Maybe they wanted to run away.
I know I did.
I know I do.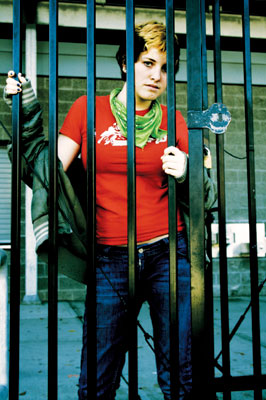 © Jessica C., Corvallis, OR