Dead Worms in Washington
MAG
May 2, 2014
I always liked the living room couch.
Making mud houses in
the springtime, for
drowned worms.

Gray eyes
And a low voice that likes
to tell ghost stories, when it should
be asleep. But then,
so should I.

What's Seattle like? I hear it
rains a lot, but
it doesn't seem like the type of place that
would be muddy.

Do me a favor:
open your box of trinkets, and
you'll find, between
the headstone and the flatlining monitor attached to you
with a fishhook,
my organs. Pull them out. Remove
them from the autopsy box of your belongings that
I couldn't look at in my house anymore.

And do be careful: they are
fragile, and craft glue can only
hold glass together for
so long.

Maybe we can hang them on the mantel
next time
I visit you in Seattle, and it is raining
dead worms.
Or pickle them in
one of our jam jars,
label it "her organs"
so as to inspire more unfinished

Gray eyes
Lit with a 19th-century candlestick
and a low voice perfect
for telling the stories
I regret listening to, but wish
I was there to hear.

I won't be needing those organs back
anytime soon.
You know, I always liked the living room couch.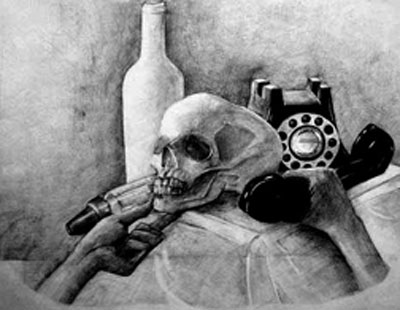 © Xiao H., Naperville, IL