Dust and Rocks
January 13, 2014
All my life, I've kept an eye to the ground,
watching the dust and rocks before me
morph into different dust and different rocks,
dust of different colors, rocks of different sizes.
Watching as the boot of the guy before me
hoards more dust, crushes more rock.
Being careful not to trip up and fall
over a stray stone or an errant root,
as all around me, the bears and panthers prowl
through the forest on silent feet,
as deer and elk and antelopes prance
over the fields on dainty hooves.
As the browns and greens and grays of the trees
melt away to reveal skies and cliffs
of breathtaking blue and green and red.
As bubbling streams wind their way
down the mountain, leaping over mossy rocks,
splashing into deep pools the color of emeralds.
As light fluffy clouds fluff along
through the dazzling mountain sky
until they reach the horizon and drift away.
And I don't see one single deer.
I don't catch the slightest glimpse of a panther.
I don't notice the forest parting to reveal
the astounding landscape spread before my eyes.
The dust and rocks beneath my feet
do not change, do not move.
Rocks do not prowl on silent feet
or prance on dainty hooves.
They do not swish over stones
or fluff across an azure sky.
I don't see one single deer.
The leafy curtains close over the sapphire sky.
I step right over the pleasantly bubbling streams.
The snowy clouds gently pass me by.
But I don't trip once.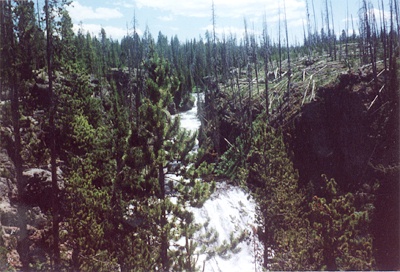 © Josh W., Peoria, AZ