Towards the Sea
August 30, 2013
She walks her way towards the sea
Just like a river, flowing to its destiny.
From the high mountains she starts her journey
Only to flow down the terrain and see
Happiness and hurdles before her eyes
She thus, embarks on her voyage of truth and lies.

Like a reckless youth rushing down the slope
She is exuberant. She is passionate.
Young at heart and filled with hope
Curious about her destiny, ready to challenge her fate

Time flows parallel to her. It augments her beauty.
with remarkable grace she rolls through the flat lands
like a mellowed woman, virtuously fulfilling all her duties
reaching out to her destiny, with both her hands.

She dances her way through the forests – dark and deep
looking forward to the shore and the promises it keeps
singing and rejoicing, she can't deny her fascination
her destination remains unknown, but she likes the direction.

Alas! The moon meets the night. She finds the sea!
She runs, she leaps. No bounds to her glee!
But only to see one of the strangest things that could ever be
the sea is blue-green, massive and salty!
Even so, she finds enthralling beauty amidst all the peculiarity

She is now one with the sea – after so long a journey, so long a strife
But this also must be the end of her life
She walked her way to the sea and just like a river, she met her destiny!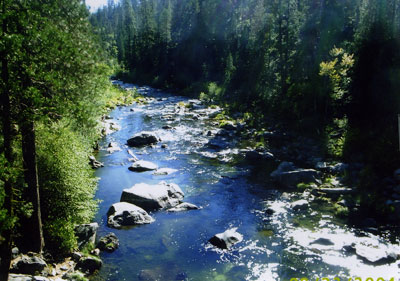 © Laycie C., Stockton, CA