Lvoe Peom
June 14, 2013
Our love is
crazy
hard to understand
invisible
we don't talk when we stand side by side
we talk when you say, "Hey, listen to this song"
and you cross the room and
turn on the speaker
and watch my face as the sound fills our empty, content silence.
Our love is
difficult
awkward
terrifying
sometimes I'll scream so loud at you
and you'll stare back at me with un-blinking owl eyes
and when I wake
after sleeping a fitful night without you by my side
I'll find roses trailing down my stairs,
taking me back to your waiting arms.
Our love is
ironic
silent
hilarious
because we share secret smiles
and laugh louder than anyone in the movie theatre
even though it's only the previews
and the movie isn't a comedy
and then just stare back at the people who grumble.
Our love is
permanent
dysfunctional
straight-forward
and I will watch you when you work
and sometimes you'll just stare and stare off into space,
with a furrowed brow,
and I'll join you,
and we'll wonder what makes this world go round
Our love is
frantic
fresh
original
because when I cry,
you're the only one who can comfort me,
only your hands will soothe me,
like an old and worn blanket,
that I should throw away,
but, I don't.
Our love is
forever.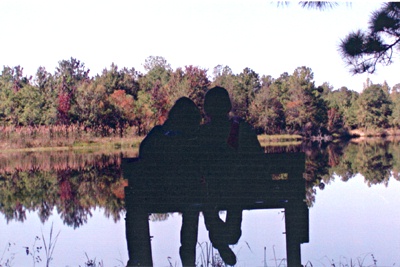 © Heather J., Slidell, LA