I & Windows
August 4, 2012
I don't like to be punched: dragged across mud so thick that gravel writes its name in graffiti across my back.
Your name is spelled in graphite across my forehead,
Your fist print is etched in the soft folds of my stomach
While my throat tries to repair the broken layers of my lungs...
I don't like to be punched.

Try as I might to turn away from you,
Your eyes stare back unblinking, at me, through the window.

Windows. Windows. Windows.

You hide behind the thick panes and crevices of another mirage: fading and etching your cursive scrawls
In red and blue and white across the canvas cracks of my broken easel,
While your nails drag across the softest cracks of my soul until just the faintest bit of blood appears.

I see and breathe out everything you tell me to.
I don't want to, but I do.

Windows twist around me despite my attempts to look at the world through my kaleidoscope.
Try as I might, the emptiness of the world is now fixated on me.

Nobody can see anything because anything is nobody.
You have darkened their eyes with charcoal and I am just an anomaly.
You let me keep my eyes but you delight in watching me stare at windows.

You and windows dance around and around.

But, windows don't have eyes.

Silly Boni.

Silly imaginative child.

Window panes 2.5 inches thick with 19873 wood splinters.

Even if you hide behind those stupid windows and nobody can see you,
Look away. Look away.

Please, look away.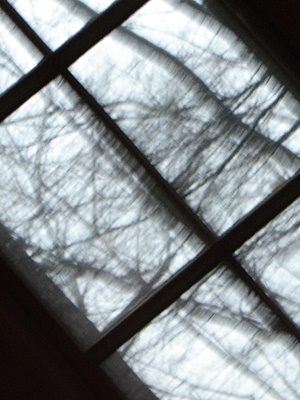 © Claire H., Boxford, MA