Death In The Frozen World
April 18, 2012
A teenage girl,
In the middle of winter
Went to the woods
To try to rescue a child
Never to be found.
The snow was falling
She heard a scream
Up by a river
Leaned in to see
If a head was bobbing
But found nothing
She slipped on ice
And went under.
Couldn't breath
Or find the strength
She was slowly dying.
She was going with the current
Down the river
And found a branch to save her.
She held on
And tried to pull her self up
Onto the bank of the water
Barely had strength
But she got up there.
She lay down
Just for a minute to catch her breath.
Then, she got up
And started to move
To find her way out
Of the woods
Her cloths were heavy
It was starting to get to hard to walk
But she kept going.
The bitter wind
Chilled her bones
Made her even colder.
She could walk no longer
Had no more strength to carry her self
And fell to her knees to
And crawled under the tree.
There she lay, until her eyes closed
And she left the frozen world.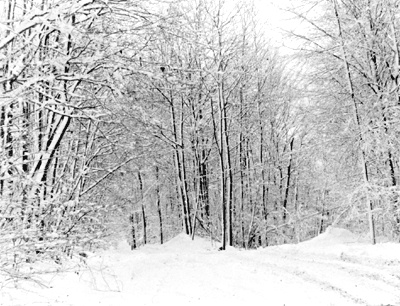 © Thomas S., Portville, NY