Expression
October 10, 2011
I am from my guitar,
the music pours from my soul.
Pentatonic scales
and minor chords
stringing solos together,
rhyming to a rhythm.

I am from callouses,
playing until my fingers bled;
each drop was success,
each note was a drop,
each time I progressed,
each time I cared less.

I am from imprisonment;
incarcerated in my mind
with a rhyme scheme,
melody, and beat.
chained to tones and
frequencies.
One after
another,
growing old
before they die.

I am from selfless actions
to make myself feel secure.
People-pleaser,
Manipulator;
Dysfunction is my pride.

I am from Disney-dreams
and a harsh reality,
aspiring to be
someone other than me,
someone better than me,
ANYBODY
except for me.


I am from verbal threats
and physical action:
my mom's mindset is crazy,
my dad's temper is short.

I am from a traveling suitcase,
filled with dirty hand-me-downs,
door to door,
house to house.
No place to call
"Home"
E.T. found a home,
why can't I?

I am from deep depression,
depravity,
feeling useless,
wondering what I did wrong,
the feeling of hopelessness
filling the void of childhood.

I am from suppressed memories
building up beneath;
rising up in flames
lighting the darkest times,
growing like a tumor,
resentments holding,
bonded to me with Glue.

I am from my guitar,
I am from expression.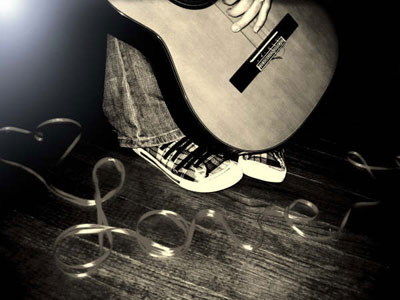 © Leah C., Grand Island, NE