If Only
June 3, 2011
Clumsily they tumble, falling from my mouth,
These words so contemplated and thought out.
Only to be confused and sputtered,
Slowly contorted and uttered.
This curse I despise deeply,
This handicap I loathe persistently.
To sit on the fringe of frivolity,
Destined to sit solitary,
I watch, observe and whisper "if only."
Their verbal duels so powerful and quick,
Their jokes clever and always seeming to click.
In a fit of courage I burst out, attempting my own,
I receive only silent stares and a long drone.
So I return to my place, the edge of the crowd,
To sit awkwardly and stare at a passing cloud.
The torture to see those beautiful eyes wander,
Yet pass me over without a stutter.
"Enough!" I cry, "Enough!" in the recesses of my head,
I rise silently, leaving unnoticed, to this room I fled.
So I immerse myself in these ink and paper wonders,
My conversations only with the great authors.
"If only!" I cry, "If only they could see what lies behind my head!"
I imagine their amazement at these things silently said.
But within my heart I realize, as hope turns to dread,
That "If only" will only ever be read.
So I immerse myself behind this paper and print,
Where time remains no matter from where I sit.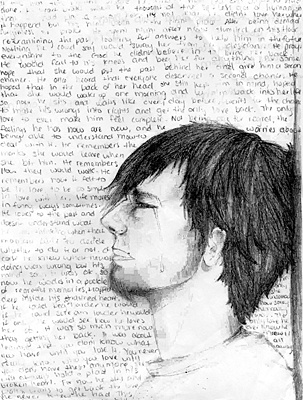 © Annie M., Columbiana, OH