A Letter To Time
November 22, 2010
Dear Time,

Will you please leave me alone, if only for a little while? You follow me
like my dog
when I've got a treat in my pocket. But you're not my dog, who will wait patiently
for me to stop and feed you. Instead, you'll
leap on me, knock me over and root around until you've gotten what you want.

I've tried to rid myself of you,
but you are a boomerang. I can turn off my phone, iPod and computer,
get rid of anything that will show me your face, but it always comes back.

You hate me, don't you, time?
What have I ever done to you?
When I'm bored, you trick the clock into going slower and slower
and slower.
When finally I'm happy, enjoying myself- then you skip over an hour or two. It's awful!
How would you like it
if I did that to you? Is this how
you entertain yourself?

Time, you are the king of deadlines
for which I very much resent you.
Because of you, there's a punishment for things not completed
when you decide they should be. You drag deadlines like dead weights
towards us, slowly adding pounds until we can barely stand.

Time, you are the bane of my existence, yet…
I don't think I could manage without you. So
thanks, I guess .

Sincerely,
your prisoner.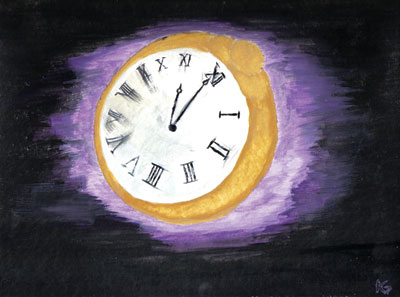 © Kyle G., Clarksville, TN