What Saved Me
November 7, 2010
I once sat beside a pond,
Winter had frozen it in time.
I felt the urge to dance across it,
But when I stepped onto the glasslike ice,
It became the deepest shade of Alaska blue,
And I began to drown.
As I closed my eyes one last time,
Something brushed my leg,
Lifted me up into the sky on its back.
My eyelids opened up in surprise
As we began to soar
Like birds.
We became one shooting star
As we climbed higher into space.
We skipped through the Milky Way,
Leaped across the sun,
And then we fell back down again.
Gently, gracefully,
Back down to Earth.
It left me on the land
And dove into the water,
But left its spirit behind
As it disintegrated into droplets.
Its spirit was the colour
Of life itself.
Shaped like the stars we had flown over.
And I picked it up,
Held it next to my heart,
Kissed it goodbye
As it became the atmosphere.
What that creature had been,
I thought I would never know.
Wild as the wind,
Perfect as the mountains.
Spellbinding.
Magical.
And then it came to me.
It was freedom.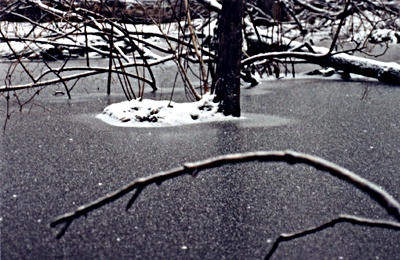 © Anton J., Philadelphia, PA