Ode to getting flowers
March 19, 2010
James masters gave me


2 dozen roses,


that he picked him self


from his mothers garden.
5
24 roses


So beautiful and vibrant


Reds, pinks and a splash of yellow


Running together,

Like a sun set on a beach

Melting away in to a bright full moon
10
Surrounded by twinkling stars.

I took them in my hands

One by one,

there fragrance wafting
15 A smells so sweet,

so pure and clean

As if it just rained.

Nervously,

I resisted the temptation
20 as I felt a sudden

Rush of excitement,

like a desperate dog

Waiting, hoping

for his master to throw the ball.
25 I wanted so badly to put them in

A glass box and

Preserve there beauty,

Like an ancient artifact

Fragile and delicate.
30 They were meant to be enjoyed

There beauty,

There smell,

There meaning to me.

I never thought twice
35 as I took

24 magnificent roses,

placed them in a vase

and put them on the table.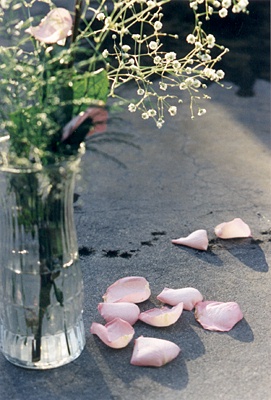 © Kathleen S., Maumee, OH