Phoenix Tears
December 15, 2016
She is a little angel, her forehead so wide
Her love makes a man purge his past and abide
By the path that she illuminates with her radiant smile
A warmth that they can feel from many a mile.
She isn't perfect, but who among us is?
She isn't happy. Aren't we all looking for that bliss
She isn't beautiful; or so she thinks
Truth be told, I miss her every time I blink
He isn't a boy, but a man? Less than so.
He just looks around for a path to be shown
For the light that which guides him has shattered and broken
For he wishes to pass into sleep and not be woken.
A lost, wandering soul. A caring white light.
He was drawn to her warmth. In the cold November night.
He took shelter in radiant glory.
His wounds were healed in her light, oh so holy!
She looked into his eyes and she could see he was cold
She stretched out her arms, so that he could hold
On to her; share the warmth she touched
His soul
Rekindled the embers and made him whole
But alas there were raven a stalking
Hand in hand there were joyfully walking
Oh the ravens they swarmed!
Destorying the warmth
That she provided
Oh she was hurt by their pecks and was chided
Oh boy, hold on to her.
Boy, you must hold on to her.
For she's only reason that you're here breathing
You must protect her, for she is now bleeding
And the boy, bursts into a raging fire
Like the hot flames of hell, he was ablaze!
And he yelled out his lungs, in a demonic craze
She was rid of those raven, her shield a bright orange pyre
And once the flames died down
The boy's hand dropped from her crown.
Collapsed on the ground he was, a mound of ash with some life
She ran over to him, but she could not provide
A healing hand for he was too far charred
Another love lost and another large scar...
A tearful goodbye was all that was left to say
A parting hope that maybe another day
Another life, another place, another time
Where her love would be his life line.
The last drop of dew from her big, beautiful eyes
Fell on his forehead and streamed down on the side
Of his and went straight to his heart
His fingers twitched, his eyelids did part
"Oh my lady, my lover, my saviour of soul
The piece that was missing, the piece that made me whole
I cannot leave this form for I have many a duty to do
And one of those duties, is to love you"
The dew of her soul brought him back to life
He cared for her like his wife
For he never forgot that cold windy November.
When she rekindled his long lost ember.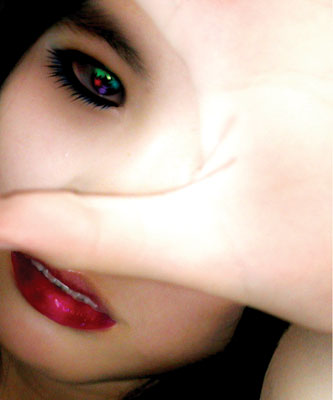 © Victoria W., Arcadia, CA