Quietus
April 6, 2009
Steams of grey billowed onto the stark canvas,
overshadowing the playfulness below.
Hush!
called the women, tediously, anxiously.
Fear laced into their words.
But few heard the call of the Protectors, because
There was a larger noise to be felt.

Monotonous chanting swept through the hills, and
Joyless laughs erupted wildly.
Fright,
Angst,
Terror:
Nightmares!
The ominous black cauldron had already overflowed. It has begun!

And then the Bible was contradicted,
depending on your frame of mind.
Torrents of fear slipped off the High Ledge;
Little Dancers blissfully ignorant
of the battles raging in their Homeland.

A scream pierced the air like a bullet,
silencing all earthly motion
and slicing through the terror,
hushing human whispers and
breaking thoughts apart.
Then the great Photographer's lights,
cameras clicking madly
at the world below.

Crash!
The wise willow tree bows her head in defeat.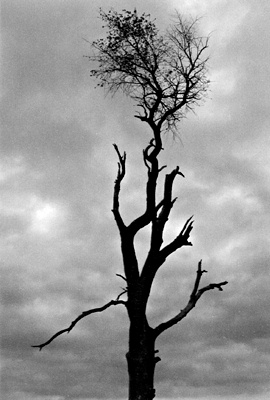 © Cassie H., Carmi, IL