Pen and Paper
September 19, 2014
All I have
Is a pen, and a paper.
And I can scribble and scratch and tear and attack
But it will still be paper.
I can't turn it into a symphony
A cacophony
A tornado of brass and melted ink
Clouds of clinking
Magical tunes, booming in a room
Too small to contain the pain,
The wonder of a band or orchestra.
I can't turn my paper and pen
Into music
Or into little tiny soldiers
Named treble and bass
That march unsterile and undecided
Into ears as open as space.
My pen and paper is no weeping mask
Transforming a box into a stage
Lollipop gums munching on rage
Pores being poured sweet honey
Out of the voices of the adored
These actors cannot be made,
By my pen and paper.
This pen and paper that I speak of
Does not the give me the ability
To paint my dreams
Or stipple my tears
No deck of cards or house of mirrors
Is painted by my pen
That doesn't make a stage a sky
Peppered with sequined stars
Combusting into self-deprecating applause.
No my
Art
Is not from my limbs
I can try to flip and fly
Pirouette until my heart's content
But all I really have
Is my pen, and my paper.
But guess what?
My paper is enough.
When people say that my art is subjective
And when they try to be negative
Force feeding my flaws down my throat
Choking on  "imperfect"
I stop.
Because my paper and pen
Create magic and the messages they send are what uplifts me.
Grabbing me by my hair, heart racing with dare
Hanging me by its power and glory
Making me realize that my pen and paper is enough.
When I am drowning in open waters and breathing in quick sand
When my owns hands are being traitors,
I stop.
Because I have my pen
And my paper.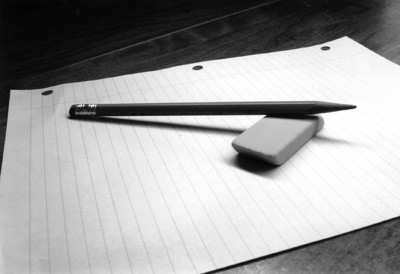 © Michael H., Mildford, CT