The Similarities
May 7, 2009
*The Similarities
The smoke is curlin- off his last cigarette-he breathes in one last time-&then removes it from his mouth. He tosses it onto the ground-&smashes it down-the only thing left of it now-is the end; barely smoldering-trying not to go out for good.
I came upon the cigarette-after the guy has left-I picked it up &held it in my hand-inspecting the tiniest of details-rollin it around-to me it seems worthless-but I wonder if someone else might think of it as a treasure.
As odd as it may seem-it reminds me of this life I live-how people hold my life in their hands-how they use it, use me,-for only a short while-until I'm no longer of any use to them.
&then they throw me away-&step all over me-tryin their best to destroy me…to destroy my life-&then after all the short-term joy &the long-term pain they cause me-they just walk away-like I'm not even really there.
&then all that's left of me is this tiny flicker-a tiny smoldering piece-..I'm hangin on for dear life now-not really sure what's to come of this-I'm trying to the best of my ability to shine in this dull world-I'm working on rekindling this fire, this fire I call my life.
&then I, myself, remind me of how this world seems to act towards me-of how people come &pick me up-after I've been tossed away; they're inspecting me, holding me, wondering what they should do with me-they're not really sure-they don't know what to do with this fragile thing we like to call our life...
Cause to me, like the cigarette, my life seems like trash-like it has no value whatsoever-but to others my life may be worth living, it may be worth trudging through this pain-they might find beauty-a diamond in the rough-I might be exactly what they were looking for.
I never thought I would be sitting here now-I never thought I'd go through the things I have-I never thought I would be comparing my life to something as peculiar as a cigarette-I wouldn't of thought that people might actually care for me, or that I could be their friend, that I could make a difference in their life-when I'm failing at rescuing my own.
It's amazing to me how things change-how the world works-how time seems to fly by. It seems like yesterday when in reality it was weeks ago-day to day, time seems like it has stopped, like it's never ending-but now I look back &all of a sudden I realize that 13 years have gone by-it's amazing what you'll realize when you're just sitting here-staring out the window.
This life is so confusing-I'll never completely understand-and now I know that I don't even want to try to. My life is just a smoldering tiny piece but im going to keep on shining-just like the cigarette, I'm going to beat the odds-I'll prove them wrong…I'm going to keep on living.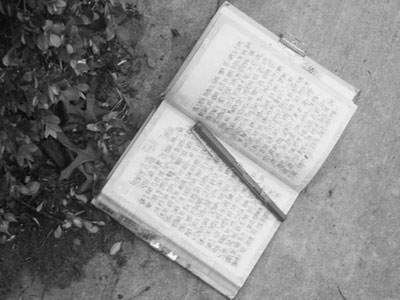 © Quinn B., Lubbock, TX