America- How About a Round of Applause?
November 28, 2008
I just took a test in my ninth grade world history class on The Revolutionary War. Anger and vengeance shook the new world as boat after boat tried to sail in. Gunshots were common, and fighting was required. My people fought. Paul Revere made his famous ride on a dark night. We fought our first battle at Lexington. King Henry III lost control of his composure, his eyes probably red with anger at his daughter colonies, disobedient and temper mental. England wouldn't let go of its American child, grown into a young woman, searching for a way into freedom. Believe it or not, I wasn't the first to make that comparison.

I am American. I young teen wanting to get her word out, wanting to make a change. They say the youth thinks they are indestructible. Now, it's the adults, the American generation, who is beginning to let their guard down.

I haven't seen much in my few years, but I've gained wisdom, simply because history is being made every day. The youth of the nation sits back and sighs heavily every time a decision is made that we don't like, because we know we simply can't do anything now. We're young, we're not taken seriously. We breathe and we eat. We learn and we process. We're all coming to an age where the growing stops and our ropes holding us down are broken from our strength. Our time is coming upon us like a speeding bullet. Are we ready?

I think we need better role models. We have dirty politicians, quirky celebrities, and our own parents to thank for our morals. We grow up in a land of obesity and theory, despair and instant hair. Pills and the market. Complex computers and a breech into the final horizon.

America has changed since the minutemen fought to their deaths. We all have an opinion, and we all want to see a ruler who will give us what we want. We want things, don't we? A little too much. We don't think about the good of humanity anymore, we think about the good of ourselves. We don't even think about the good of our fellow Americans. In fact, we don't even consider each other fellow Americans anymore. No one is in line with another. We are all caught up in the madness of ourselves.

American has survived through so much, and here we are to turn it back on track. I'm an American. You are an American. We are our future. One day soon, we will be calling the shots, and cleaning up our elders' mistakes. We, Americans, need to put meaning back into our pledge and our songs. We need to be one heart beating, one heart beating for everybody.

America has been wonderful. Let's give everything a round of applause. A moment of silence to look upon the majestic bravery of troops and presidents. Hats off to our past!

We are the future! It's time we take the reins!

"Give me Liberty or give me death!"


Fight for those who made their choices! It's time to make ours.

America, the land of the free. Those words never felt so alive.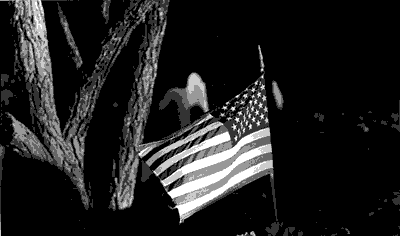 © Kimberly R., Marblehead, MA