Everyone is doing it? That could kill you.
April 24, 2010
Depression. Drugs. Alcohol. Sex. Eating Disorders. Cutting. All of these are serious problems students of today are facing. They can result in a lifetime of struggling, therapy, and relapse, and can rob you of your wellbeing, your family, or your life. While they are mostly internal, the unhealthy atmosphere between students in public schools can be a key source in fueling them. The bad atmosphere I am addressing is the overwhelming amounts of peer pressure, and the harsh domineer of cliques in public schools. However, we could evade these issues if one just took the time to notice and think.

Moreover, this issue is more relevant then ever in today's society, as it creeps down affect to younger and younger students. Ask any elementary school student, and you will discover there is a distinct social hierarchy even at that stage in their life. And while some individuals, like myself, might see popularity as unimportant, so many students crave this kind of social gratification, and these exclusive social groups can turn malevolent very easily. According to an article from ABC news, an unbelievable 6 out of 10 students witness bullying once every day. Also, it's not even physical; verbal attacks and mockery can sting someone ten times more than a punch ever could. It has been said that people bully because of something that they are lacking in themselves, but it's also a sign of ignorance. It's proven that many students who get made fun of have a greatly increased risk of mental problems or complications. That girl you called a cow in the stairwell may very well have depression or an eating disorder, and it's partially fueled by your and your friends' remarks. If people would just think about this before they made that demeaning comment, so much could be avoided.

Additionally, being in a clique can also turn dangerous if some people are engaging in risky behavior and try to convince others that it's something that's "cool" to do. Many people claim that it's easy to say no to peer pressure and that it's not as big a deal as it presumes to be, but the statistics are staggering. According to the Adolescent Substance Abuse Knowledge Base, approximately 30.2% of young adults are given, offered, or sold drugs in high school and middle school, and the percentage of adolescents who took their first drink before age 13 is 32.2% of all those sampled. It's a very rare instance that a young person discovers these things on their own- the most common catalyst for a young child getting into drugs and alcohol is because someone they know is into it. Moreover statistics on peer pressure dealing with sex reveals approximately 50% of 12-17 year olds feel pressured in sex and relationships, according to The Kaiser Foundation. The key thing you must remember is when you partake in this behavior you are risking overdose, addiction, disease, pregnancy, or in extreme cases, death. And also, you should care about yourself, and if you feel pressured then you shouldn't just take it. Stand up for yourself and care about your wellbeing.

So my final words are that this is affecting you, and ignoring it won't do any good. You have to think about how what you say or do might affect someone. You have to know when to say no to someone who is trying to convince you do to something that your uncomfortable with. You are worth something, so take a stand for yourself and the students of America.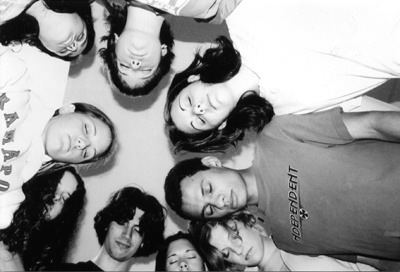 © Emma L., Oakland, NJ