Justin Bieber ~ Love Him or Hate Him?
November 24, 2010
Justin Bieber. Everytime I hear that name, a picture forms in my head. Millions of girls jumping up and down, screaming, hoping to get Justin to notice THEM. I also hear a song in my head when I hear the name 'Justin Bieber'. 'Baby' is the ONE song that I always hear when I think about Justin. Why? Because it is probably one of the most easily remembered songs of his, and it's played all the time on the radio. Basically, Justin Bieber is the name that drives girls crazy. But not all of them.

Justin Bieber rose up to fame after getting his start on Youtube, covering songs. The label that Justin signed his contract with is Usher's label. Pretty amazing, right? Now I know that there are the people out there thinking, "He has no talent and he sucks at singing. He sounds like a girl." But really, would a label sign a contract with Justin if he 'sucks at singing'? Exactly. Obviously, Justin has real talent. So why are there so many haters out there? Well the answer is complicated, so let me ramble about it, then maybe you guys can give me some feedback on what YOU think.

One thing that I keep hearing around school and online is that Justin Bieber sings like a girl. Now what I think, is that whoever started the whole thing about 'sounding like a girl' should be ashamed. EVERY guy goes through puberty, and EVERY guy's voice changes. Justin is no exception. There's nothing alien-like about him. I mean, he's just like any other normal guy (besides the huge superstar part-but we'll get to that later). Obviously, he's going to have a voice change too. And really, I don't even think he sounds like a girl. Think about it: If you compare him to Taylor Swift, you can obviously hear the difference. I don't think it's fair for a bunch of people to make fun of him for his voice, when tons of other guys are going through the same thing.

Making fun of Justin Bieber seems like the 'popular' thing to do at the moment. I mean, seriously, I can't go through a school day without hearing a mean Justin Bieber comment. There are so many mean things said about him, that I'm not going to write any specific comments. But if you get the drift of what I mean, then you can see that this "Let's-slam-Justin-Bieber-so-we-can-sound-cool" trend is everywhere. Basically, if you don't agree with a mean Justin Bieber comment, you're looked down upon as being a weird person who actually likes his music and him. It's hard to believe how quickly things have changed. For example, when Justin was first discovered, and his first songs came out, many girls I know went head-over-heals for him. But now, most most of those girls are saying that they hate Justin Bieber. Why? Because our peers are showing us that to be cool, you can't like Justin Bieber. You may be thinking, "But why does he have so many fans?" Honestly, I don't know. Considering all the 'haters', it's hard to believe how many fans Justin has.

I guess the ultimate question for me is, why do people hate Justin Bieber? He's good-looking, seems like a kind person, and his music comes from his heart. It's okay if you don't like his music, but why would you go as far to say, "I hate Justin Bieber"? It seems inconsiderate and mean to me. I'm not saying that you have to like Justin Bieber because he's perfect, because he's not; no one is. But I'm also saying that you shouldn't hate on him just because it's the cool thing to do.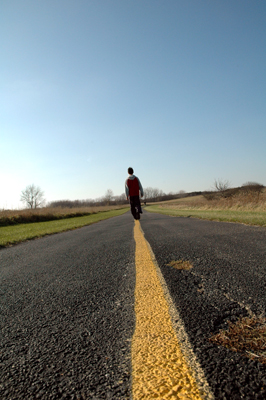 © Seita O., Palatine, IL