What if Social Media Could Talk to Teen Girls?
December 28, 2020
Dear Teen Girls,
I am flattered that you unknowingly rely on me so much for your beauty standards and cool trends. But I don't like to be the cause of your insecurities.
I know it is easy to get caught up in comparing yourselves to other girls and women. You're surrounded by models and influencers through me, but always remember that you only know a fraction of other people's lives through my accounts. I may be an easy medium to display your best pictures. Still, I am not completely capable of showing your actual feelings. So when you see someone that looks "perfect" in my posts and feeds, they're probably not that perfect inside and are going through their own problems too.
Please don't change yourself based on what others post on my feeds. Don't try to get the perfect body and clear skin just because you see models having them. They look perfect because of professional makeup and photography. If you want to change something about yourself, do it because it feels good and you want to do it, not because everyone else looks like it.
I know it's hard to be just yourself when all around you, everyone wants to be like each other. You want to go with the current trend to wear ripped jeans, a cropped sweater, Vans shoes, and a choker necklace. And to be cooler, you want AirPods, the latest iPhone, and social media apps with a thousand followers. Sounds familiar? It seems easy to just fit in with what the crowd does. I mean, you can get popular, get more attention from boys, and get more followers on my accounts. But be honest with yourself and look within. Does that really make you happy? Is that really all there is to life? Wouldn't you rather be yourself, do things that you're comfortable with, and rock with what you're born with? If you think that just simply being yourself would mean that you'll have no friends and you'll be that weird kid, it's not true. Look inside yourself and see who you really are. Then show it proudly to the world on my feeds and posts!
No matter a person's outward looks, we don't know what's going on within their inside. Be the best positive person for other girls. Avoid commenting on their looks or body. Instead, say something genuine about their personality or character or talent. Also, remember to stand up for yourself if you don't feel comfortable. I know it seems scary to use your voice, especially if you're not socially strong, but you do have a voice, so use it! Everyone has ups and downs in their lives, but don't let anything overpower what you think. If you stick to your values and do what YOU want to do, you can be the best version of yourself!
See you on my feed!
Sincerely,
Social Media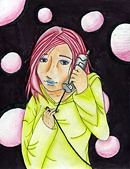 © Emily M., Milford, CT