Young Love
September 21, 2014
So there's this guy I met. We'll call him "guy". So he met Girl 1, and they "felt a connection". They hung out, talked, and wound up making out by the end of the day. Girl 1 was convinced that this was true love (remind you of Ana?). Well apparantly Guy didn't quite feel the same way. He had met Girl 2. When Girl 1 saw Guy kissing Girl 2, she got mad. But Girl 2 didn't seem to care. Niether did Guy. In his eyes, he had done nothing wrong.
This is true for both girls and guys. Where they see love as any kind of attraction. What many teens want out of love is spit-swapping and to get physical. Most guys go around boasting who they made out with, and what base they got to. Girls go around twirling their hair and seeing how many guys they can get to follow them around like puppies.
None of this is okay. Why do we have "young love"? Why can't we just have "serious, adult love", where we have ONE PERMENATE relationship til the day we die? When a teen says that they're in love, 90% of the time it isn't true, and everything ends in heartbreak.
So, moral of all this: don't be a jerk. And this goes to girls as well as guys!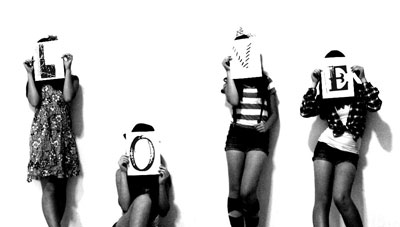 © Yoko K., Madison, WI