Why We Write
MAG
November 30, 2009
"I write for the same reason I breathe."

I found this written in my best friend's journal one day. It took me a while to figure out exactly what she meant.

The first thing that came to my mind when I considered why I write was, because I have to. But that wasn't exactly a pleasant idea. I write the beautiful things I write because I have to? That didn't make sense.

I don't write because I have to. I write because I want to. But it's deeper than that.

I write because otherwise I would scream. Because if I didn't have a pen in my hand, my feelings would circle my mind until they clawed their hurtful essence into the walls of my brain for good. If I didn't write, I would be more confused than a penguin at the North Pole. I write because I would go homicidal if I didn't vent somehow. My friends have too many burdens already; it would be selfish to rage at them about my life.

When I write, I can crumple the paper up and maybe even burn it. Even though that doesn't always get rid of my negative feelings, it simulates action. And having that feeling lets me live my days happier.

So, I don't really write because I have to. I write because I need to? That still isn't right.

So I looked at it again. I examined the intricacies of words and how they are just sounds woven together to make other sounds in a way that moves us. Every slip of a syllable, every twist of a vowel explodes emotions that can't be achieved any other way. With every synonym and every adverb, our senses tingle and warm up.

I guess I've arrived at an idea. An idea why Shakespeare immersed us in love, and why Margaret Mitchell takes us back to a place we know as our own country but feels like a different world. A reason why Emily Dickinson wove her words with gentle purpose, and why Emily Brontë wrote us a chilling love story.

I write to connect. I write because I know that if I write about my feelings and who I am, somewhere across the world, someone else will read it and it will mean something to them. I write to make myself known to someone else.

And maybe that's why the classics become classics. They strike a chord with millions of people all at once and make a permanent mark in literary history for being timeless.

I hope that some day I can have even my tiniest thoughts and feelings understood and even recognized.

So, yes, I write for the same reason I breathe.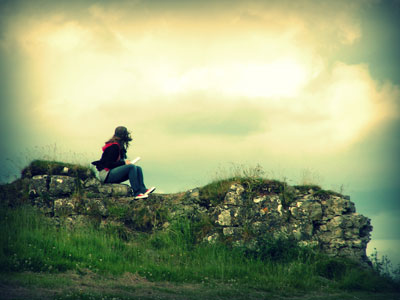 © Caroline C., Coronado, CA