"Murder" at My Wal-Mart
MAG
I was walking through Wal-Mart, looking at theCDs, when I passed an older couple with their grandson. At first glance, theyseemed like a friendly couple who took pleasure in their grandson's enjoyment ofthe video game he was playing. But as I passed them my thoughts quickly changedas I listened to what their four-year-old grandson was saying: "Murder!Murder! I murdered him!" It horrified me to hear a four-year-old screamabout murder while his grandfather stood by with a big smile. What are theyletting him play? I wondered.

All the violent video games I knew began tofilter through my mind. These thoughts were quickly stopped when, out of thecorner of my eye, I caught sight of the screen. The boy was playing a dirt bikeracing game and was supposed to be trying to kill deer. Instead, he was trying tokill the rider by slamming him into the wall. This made me seriously wonder howmuch of a role video games play in violence today.

Don't get me wrong, Ilove video games. Some of my favorite childhood memories are of playing them withmy cousins. Racing, wrestling, snowboarding - you name it, we probably played it.But in recent years games have become increasingly violent. I have no doubt thatchildren who play violent video games when they are too young to understand thedifference between right and wrong will want to go out and be just like the heroin that game. A four-year-old has no way to distinguish the difference betweenkilling a bicycle rider in his game and killing a real person on the side of theroad. Children should not be exposed to this kind of violence at such an earlyage - it influences them in ways that are more harmful than we canimagine.

As a society, we do nothing about what goes on around us on adaily basis. We let our children play these video games because it makes themhappy. No one reacted to the four-year-old at Wal-Mart because he seemed sohappy, despite the fact his screams could be heard all over the store. Noemployee asked him to be quiet and no customer complained - not even me. I guessI was too scared to complain, scared that it wasn't my place to say anything, and more scared of what our society has become.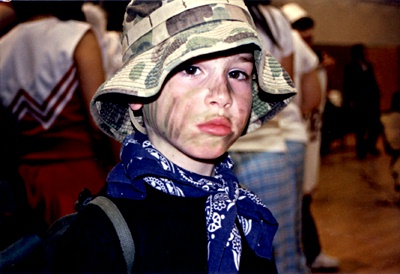 © Anonymous