Fighting Disabilities
April 11, 2016
Last summer I went to a flea market in Egypt, where I came across an art store. The canvases outside the store being presented were astonishing and captured the eye instantly. Colors of all kind with beautiful natural views of palm trees, oceans, and birds, therefore my family and I decided to take a look inside to see what else can leave us wonderstruck.

The store owner was excitedly smiling as soon as we walked in as he heard new customers. The store owner was very welcoming and pointed out certain paintings for us to look at. He kept mumbling and humming, he never spoke. He was very humble and showed so many positive emotions that you didn't bother to think about a negative. Every gesture was quiet and precise. When my mother asked him if he hand painted these he nodded and smiled in pride. After he kept trying to explain paintings, i realized that he never spoke. Everything was pointed out. Humming, mumbling, humming, mumbling, it never stopped. Answering our questions without words hinted that he was mute.

The mute Egyptian artist was the most creative and passionate artist I had ever seen. He used the same color but different shades and brought out clarity, focus, and shadows. His use of shadows allowed you to concentrate on the whole artwork instead of trying to find little main bits. He made every painting different, but also the same in ways.

Time went by as we kept walking around and looking at different paintings. While we explored, the mute artist walked away and continued to work on one of his paintings. Same style, different colors yet still the same imagination, same gestures. Every movement of the artist's hands was elegant and had a classical personality to the way he used the brush. He drew lightly, pressing his hand down only when shadow and deep color was needed. He was focused and ignored the outside world, at that moment, art was truly his life. He never rushed, he painted as if he had all the time in the world, and when he finished a piece, he signed it and put it out for people to notice his talent.

I walked next to the artist to observe what he was finishing, it was a black and white picture of a man riding a camel, next to palmtrees and the light of a shining moon. He finished quickly considering it didn't need much more, and he looked up at me and gave me a smile that said it all. He looked proud and admired his work. The artist walked up to my mother and mumbled more, he gestured out the number ten and brought us chairs. The artwork he had just finished was to go to us, and he wanted my family to wait for the masterpiece to be complete and to finish drying so that it finally gives its purpose, creativity.

Being mute, he spent ten minutes talking to my mom. Explaining his life story and how he got where he was. I didn't know why, but when the mute artist started mumbling, I didn't want to stop listening. Out of all the people that could talk, and talk too much, and annoy others that you don't like to listen to, both my ears were pierced on the mumbles and both my eyes were pierced on the hand gestures so I could truly understand everything.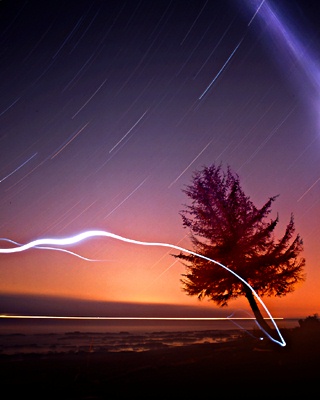 © Joey M., Spokane, WA